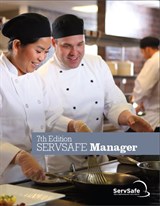 Description
definitive book for food safety training and certification.
The new ServSafe® Manager Book, 7/e continues to be ideal for courses that cover the basics, condensed courses, continuing education, and even 1-2 day seminars. The updated book will help readers prepare for the most current ServSafe Food Protection Manager Certification Exam, and more importantly, it will promote adherence to food safety practices on-the-job.
Food safety has never been more important to the restaurant industry and its customers. Based on the 2013 FDA Food Code, the ServSafe Manager Book, 7/e focuses on the preventative measures to keep food safe. To better reflect the changing needs of a diverse and expanding workforce, food safety topics are presented in a user-friendly, practical way with real-world stories to help readers understand the day-to-day importance of food safety. The streamlined delivery of food safety content will create a learning experience that is activity-based and easily comprehended by a variety of learners. The end result is content that is more focused, leading to stronger food safety practices and a better-trained workforce.
Developed by the industry, for the industry, ServSafe® is a proven way to minimize risk and maximize protection for foodservice owners, employees, and customers. Recognized as the industry standard, ServSafe offers a complete suite of printed and online products and is the most important ingredient to food safety training and certification success.
Table of Contents
Chapter 1 Providing Safe Food
Chapter 2 Forms of Contamination
Chapter 3 The Safe Food Handler
Chapter 4 The Flow of Food: An Introduction
Chapter 5 The Flow of Food: Purchasing, Receiving, and Storage
Chapter 6 The Flow of Food: Preparation
Chapter 7 The Flow of Food: Service
Chapter 8 Food Safety Management Systems
Chapter 9 Safe Facilities and Pest Management
Chapter 10 Cleaning and Sanitizing
Appendix
Index
Enhance your learning experience with text-specific study materials.
This title is also sold in the various packages listed below. Before purchasing one of these packages, speak with your professor about which one will help you be successful in your course.
Package ISBN-13: 9780135159347
Includes this title packaged with:
MyLab ServSafe for Manager book with Pearson eText Full Course --Access Code Card, 7th Edition
. . National Restaurant Association
$106.65 $101.32 | Add to Cart
Package ISBN-13: 9780135380673
Includes this title packaged with:
On Cooking: A Textbook of Culinary Fundamentals, 6th Edition
Sarah R. Labensky, Alan M. Hause, Priscilla A. Martel
$232.97 $221.32 | Add to Cart
Package ISBN-13: 9780135308981
Includes this title packaged with:
MyLab Culinary and Pearson Kitchen Manager with Pearson eText -- Access Card -- for On Cooking, 6th Edition
Sarah R. Labensky, Priscilla A. Martel, Alan M. Hause
On Cooking: A Textbook of Culinary Fundamentals, 6th Edition
Sarah R. Labensky, Alan M. Hause, Priscilla A. Martel
$245.31 $233.04 | Add to Cart