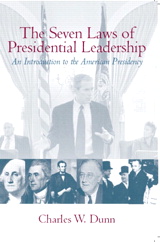 Description
For American Presidency, Presidential Leadership and Chief Executive courses.
The Seven Laws of Presidential Leadership presents the traditional topics of history, rhetoric, politics, Congress, the Courts, and other subjects through an innovative method that sparks student interest and increases teaching options.
After some 30 years of teaching and writing about the presidency at Florida State University, the University of Illinois (Urbana), Clemson University, and Grove City College, Charles W. Dunn wanted to distill into one book the general laws that govern presidential leadership. The title, Seven Laws, came from a series of new lectures, which he delivered at Clemson University. He noticed then that in response to those lectures, students listened more intently, took notes more thoroughly, and responded with more questions than ever before. The students' response increasingly prompted him to think about how a book could capture the same high level of student interest. The result was The Seven Laws of Presidential Leadership.
Table of Contents
Preface
1 The Law of History: The Irony of Power and Promise
Introduction to the Law of History
Constitutional Creation
Defining Moments and Turning Points
The Paradox of Presidential Power
Conclusion
2 The Law of Rhetoric: The Stagecraft of Presidential Leadership
Introduction to the Law of Rhetoric
Eras of Rhetorical Change
Rhetorical Currency
Rhetorical Strategy
Conclusion
3 The Law of Theory: The Paradoxes of Presidential Leadership
Introduction to the Law of Theory
Presidential Power
The Exceptional Person
History and Culture
The Paradoxes
Conclusion
4 The Law of Culture: Unanticipated Consequences
Introduction to the Law of Culture
Substance and Style
Culture
Presidential Debates
Television
Public Opinion Polls
Impact on Presidential Leadership
Conclusion
5 The Law of Morality: Kaleidoscopic Uncertainty
Introduction to the Law of Morality
Moral Issues in the Modern Presidency
Types of Moral Issues
Perspectives on Presidential Morality
Presidential Morality Historically Examined
Presidential Morality and the Moral Kaleidoscope
Conclusion
6 The Law of Politics: Steadiness and Strategic Thinking
Introduction to the Law of Politics
Personal and Political Backgrounds
Public Policy Stability
Presidential Campaigns
Presidential Elections
Administrative Strategies
Conclusion
7 The Law of Management: Indirection
Introduction to the Law of Management
Managerial or Political President?
Managing the Executive Branch
Organizational Models
Promotion of Ideas and Vision
Influencing the Congress
Influencing the Courts
Conclusion
Notes
Appendix
Topical Bibliography
Personal History of Presidents
Presidential Election Results: 1789 — 2004
Religious Affiliations of Presidents
Constitution of the United States
Index
Purchase Info ?
With CourseSmart eTextbooks and eResources, you save up to 60% off the price of new print textbooks, and can switch between studying online or offline to suit your needs.
Once you have purchased your eTextbooks and added them to your CourseSmart bookshelf, you can access them anytime, anywhere.
Buy Access
Seven Laws of Presidential Leadership, CourseSmart eTextbook
Format: Safari Book
$35.99 | ISBN-13: 978-0-13-175255-9