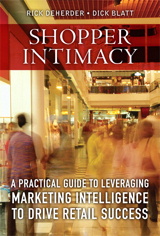 Description
Retail marketing is undergoing cataclysmic change, driven by upheavals in media, consumer attitudes, and the retail industry itself. Retailers know they must invest more heavily in marketing, both to build brands and to drive sales. But how? In Shopper Intimacy, two leading experts offer the first comprehensive, research-based guide to building winning retail marketing programs. Drawing on a decade of customer research, the authors introduce:
A start-to-finish system for planning and executing effective campaigns.
Powerful new tools for influencing shopper behavior and driving better results.
Practical, workable techniques for measuring performance – including a breakthrough approach for measuring ROI from the standpoint of all stakeholders.
Best practices models for integrating internal and syndicated research.
Trend analysis to help retailers chart the future trajectory of marketing, and position themselves appropriately.
Shopper Intimacy contains extensive case studies, charts, pictures, and illustrations designed to deepen marketers' understanding. Above all, it presents practical learnings that cut across all retail segments, with data to support the authors' conclusions, and techniques for successfully applying them.
Table of Contents
Introduction 1
Chapter 1: REAP (Retail Ecosystem Analytics Process) 7
Chapter 2: Measuring Marketing at Retail in Supermarkets 25
Chapter 3: Measuring Marketing at Retail in Convenience Stores 43
Chapter 4: Measuring Marketing at Retail in Drug Stores 63
Chapter 5: Establishing In-Store Marketing Measures 79
Chapter 6: Capturing Shopping Dynamics in Store 101
Chapter 7: Shopper Models 125
Chapter 8: Decision Drivers 146
Chapter 9: Online Retailing 197
Chapter 10: Measuring Return on Investment 215
Index 235
Purchase Info
ISBN-10: 0-13-248536-2
ISBN-13: 978-0-13-248536-4
Format: Safari PTG
This publication is not currently for sale.