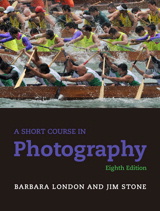 Description
The London, Upton, Stone series has helped over 1,000,000 photography students capture their potential.
The new 8th edition of A Short Course in Photography introduces students to the fundamentals of photography and suggests ways in which they might create photographs that have meaning. With a special focus on black and white photography, the book also explores digital techniques and web photography resources, equipment, cameras and camera accessories, the exposure and development of film, and the making and finishing of prints. All aspects of the process are explained and illustrated clearly in two-page spreads, each of which addresses a self-contained topic.
Table of Contents
Chapter 1 Camera
Getting Started Camera and film
Loading film into the camera
Focusing and setting the exposure
Exposure readout
Exposing the film
What will you photograph?
Using a digital camera
Types of Cameras
Basic Camera Controls
More about Camera Controls
Inside a singlelens reflex camera
Shutter Speed Affects light and motion
Aperture Affects light and depth of field
Shutter Speed and Aperture Blur vs. depth of field
Getting the Most from Your Camera and Lens
Chapter 2 Lens
Lens Focal Length The basic difference between lenses
Normal Focal Length The most like human vision
Long Focal Length Telephoto lenses
Short Focal Length Wide-angle lenses
Zoom, Macro, and Fisheye Lenses
Focus and Depth of Field
Automatic Focus
Depth of Field Controlling sharpness in a photograph
More about Depth of Field How to preview it
Perspective How a photograph shows depth
Lens Attachments Making close-ups
Using filters
Polarization and other effects
Chapter 3 Film
Selecting and Using Film
Film Speed and Grain The two go together
Special-Purpose Films Infrared and chromogenic
Color in Film and Digital
Color Films
Chapter 4 Exposure
Normal Exposure, Underexposure, and Overexposure
Exposure Meters What different types do
How to calculate and adjust an exposure manually
Overriding an Automatic Exposure Camera
Making an Exposure of an Average Scene
Exposing Scenes That are Lighter or Darker than Average
Backlighting
Exposing Scenes with High Contrast
Low Light and Reciprocity
Exposures in Hard-to-Meter Situations
Chapter 5 Developing the Negative
Processing Film Equipment and chemicals you'll need
Mixing and Handling Chemicals
Processing Film Step by Step Setting out materials needed
Preparing the film
Development
Stop bath and fixer
Washing and drying
Summary of Film Processing
How Chemicals Affect Film
Evaluating Your Negatives
Push Processing
Chapter 6 Printing
Printing Equipment and materials you'll need
Making a Contact Print Step by Step
Processing a Print Step by Step Development
Stop bath and fixer
Washing and drying
Summary of Print Processing
Making an Enlarged Print Step by Step Setting up the enlarger
Exposing a test print
Exposing a final print
Evaluating Your Print for Density and Contrast
More about Contrast How to control it in a print
Local Controls Burning in and dodging
Cropping
Spotting
Mounting a Print
Equipment and materials you'll need
Dry Mounting a Print Step by Step
Bleed Mounting/Overmatting
Chapter 7 Lighting
Qualities of Light From direct to diffused
Existing Light Use what's available
The Main Light The strongest source of light
Fill Light To lighten shadows
Simple Portrait Lighting
Using Artificial Light Photolamp or flash
More about Flash How to position it
Using Flash
Chapter 8 Digital Photography
Equipment and Materials You'll Need
Pixels Make the Picture
Digital Color Modes, gamuts, spaces, and profiles
Channels
Using Histograms and the Info Palette
Setting up a Workflow Stay organized
Workflow programs: Aperture and lightroom
Importing an Image
Scanning
Getting Started Editing an Image
Adjusting an Image Levels
Curves
Adjusting Part of an Image Selections
More Techniques Layers
Filters
Retouching
Sharpening
Compositing
Making a Digital Image Step by Step
Soft Proofing
Printing
Storage, Archiving, Retrieval
Ethics and Digital Imaging
Chapter 9 Seeing Like a Camera
What's in the Picture The edges or frame
The background
Depth of Field Which parts are sharp
Time and Motion in a Photograph
Depth in a Picture Three dimensions become two
Chaos becomes order
Photographing for Meaning
Portraits Informal: Finding them
Formal: Setting them up
Photographing the Landscape
Photographing the Cityscape
Photographing Inside
Responding to Photographs
How to Learn More
Troubleshooting
Glossary
Photo Credits
Bibliography
Index
Purchase Info
ISBN-10: 0-205-06640-2
ISBN-13: 978-0-205-06640-7
Format: Alternate Binding
Digital Choices ?
MyLab & Mastering with Pearson eText is a complete digital substitute for a print value pack at a lower price.
MyLab & Mastering ?
MyLab & Mastering products deliver customizable content and highly personalized study paths, responsive learning tools, and real-time evaluation and diagnostics. MyLab & Mastering products help move students toward the moment that matters most—the moment of true understanding and learning.
+ Other Options