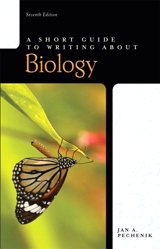 Description
Providing the reader with the tools need ed to be successful writers in college and their profession,
A Short Guide to Writing about Biology
emphasizes writing as a means to examine, evaluate, and share ideas. The text teaches how to read critically, study, evaluate and report data, and how to communicate information clearly and logically.
Also given detailed advice on locating useful sources, interpreting the results of statistical tests, maintaining effective laboratory and field notebooks, writing effective research proposals and poster presentations, writing effective applications, and communicating information to both professional and general audiences.
Table of Contents
Preface.
I. GENERAL ADVICE ABOUT WRITING AND READING BIOLOGY.
1. Introduction and General Rules.
What Do Biologists Write About, and Why?
The Keys to Success.
On Using Computers in Writing.
On Using Computers for Data Storage, Analysis, and Presentation.
Summary.
2. Locating Useful Sources.
Using Indexes
Prowling the Internet
Closing Thoughts.
Summary.
3. General Advice on Reading and Note-Taking.
Why Read and What to Read
Effective Reading.
Reading Data: Plumbing the Depths of Figures and Tables.
Reading Text: Summarize As You Go.
Plagiarism and Note-Taking.
Summary
4. Reading and Writing about Statistical Analysis.
Statistical Essentials.
Summary: Using Statistics.
Reading About Statistics.
Writing About Statistics.
5. Citing Sources and Listing References.
Citing Sources.
Summary of Citation Format Rules.
Preparing the Literature Cited Section.
Sample Literature Cited Section.
6. Revising.
Preparing the Draft for Surgery.
Plotting Idea Maps.
Revising for Content.
Revising for Clarity.
Revising for Completeness.
Revising for Conciseness.
Revising for Flow.
Revising for Teleology and Anthropomorphism.
Revising for Spelling Errors.
Revising for Grammar and Proper Word Usage.
Becoming a Good Reviewer
Receiving Criticism
Checklist.
II. GUIDELINES FOR SPECIFIC CRITIQUES.
7. Writing Summaries and Critiques.
Writing the First Draft.
Writing the Summary.
Sample Student Summary.
Writing the Critique.
Concluding Thoughts.
8. Writing Essays and Term Papers.
Why Bother?
Getting Started.
Researching Your Topic
Developing a Thesis Statement.
Writing the Paper.
Citing Sources.
Creating a Title.
Revising.
Checklist
9. Writing Laboratory and Other Research Reports.
Why Are You Doing This?
The Purpose of Laboratory and Field Notebooks.
Components of the Research Report.
Where to Start.
When to Start
Writing the Materials and Methods Section.
Writing the Results Section.
Citing Sources.
Writing the Discussion Section.
Writing the Introduction Section.
Deciding on a Title.
Writing an Abstract.
Preparing an Acknowledgements Section.
Preparing the Literature Cited Section.
Preparing A Paper for Formal Publication.
Checklist for the Final Draft
10. Writing Research Proposals.
What Are Reviewers Looking For?
Researching Your Topic.
What Makes a Good Research Question?
Writing the Proposal.
Tightening the Logic.
The Life of a Real Research Proposal
Checklist
11. Answering Essay Questions.
Basic Principles.
12 Presenting Research Findings as Talks and Posters
Oral Presentation
Talking about published research papers
Writing the talk
Giving the talk
Dos and Don'ts for oral presentations
Talking about original research
Talking about proposed research
The listener's responsibility
Preparing effective visuals
Using Powerpoint
Common Powerpoint errors
Checklist for being judged
Poster Presentations
Layout of the poster
Making the poster
Checklist for making posters
13. Writing Letters of Application.
Before You Start.
Preparing the Résumé.
Preparing the Cover Letter.
Recruiting Effective Letters of Recommendation.
Appendix A. The Disassembled Paragraph Reconstituted (from Chapter 5).
Appendix B. Revised Sample Sentences.
Appendix C. The Revised Sample Sentences in Final Form.
Appendix D. Commonly Used Abbreviations.
Appendix E. Suggested References for Further Reading.
Appendix F. Sample Form for Peer Review.
Appendix G. Some Useful Websites.
Index.