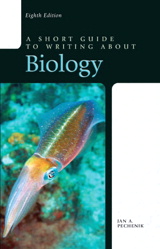 Description
This best-selling writing guide by a prominent biologist teaches students to think as biologists and to express ideas clearly and concisely through their writing.
¿¿¿¿¿¿¿¿¿¿¿¿¿¿
Providing students with the tools they'll need to be successful writers in college and their profession, A Short Guide to Writing about Biology emphasizes writing as a way of examining, evaluating, and sharing ideas. The text teaches students how to read critically, study, evaluate and report data, and how to communicate information clearly and logically.
¿Students are also given detailed advice on locating useful sources, interpreting the results of statistical tests, maintaining effective laboratory and field notebooks, writing effective research proposals and poster presentations, writing effective applications, and communicating information to both professional and general audiences.
Table of Contents
PART I
General Advice about Writing and Reading ] Biology
1—Introduction and General Rules
What Do Biologists Write about, and Why?
The Keys to Success
Eleven Major Rules for Preparing a First Draft
Seven Major Rules for Developing Your Final Draft
Nine Finer Points: The Easy Stuff
The Annoying but Essential Last Pass
On Using Computers in Writing
On Using Computers for Data Storage, Analysis, and Presentation
Summary
Technology Tip 1. Getting the Most from Your Word-Processing Program
2—Locating Useful Sources
Using Indexes
Using Science Citation Index
Using Current Contents Search
Using Medline and Other Databases
Prowling the Internet
Conducting Web Searches: Developing Productive Search Strategies
Final Thoughts about Efficient Searching: Technology Isn't Everything
Closing Thoughts
Summary
Technology Tip 2. Using Search Engines Effectively
3—General Advice on Reading and Note-Taking
Why Read and What to Read
Effective Reading
Reading Data: Plumbing the Depths of Figures and Tables
Reading Text: Summarize as You Go
Plagiarism and Note-Taking
Plagiarism
Take Notes in Your Own Words
Split-Page Note-Taking: A Can't-Fail System
Final Thoughts on Note-Taking: Document Your Sources
Summary
4—Reading and Writing About Statistical Analyses
Statistical Essentials
Variability and Its Representation
When Is a Difference a Meaningful Difference? What You Need to Know about Tomatoes, Peas, and Random Events
Establishing a Null Hypothesis
Conducting the Analysis, and Interpreting the Results
Degrees of Freedom
Summary: Using Statistics to Test Hypotheses
Moving Beyond p-Values
Statistical Power
Effect Magnitudes and Alternative Analyses
Reading about Statistics
Writing about Statistics
Summary
5—Citing Sources and Listing References
Citing Sources
Summary of Citation Format Rules
Preparing the Literature Cited Section
Listing the References—General Rules
Listing the References—Using the Correct Format
A Sample Literature Cited Section
Technology TIP 3. Bibliographic Management Software 79 Technology Tip 4. Producing Hanging Indents
6—Revising
Preparing the Draft for Surgery: Plotting Idea Maps
Revising for Content
Revising for Clarity
Taming Disobedient Sentences—Sentences That Don't Say What the Author Means
The Dangers of It
Problems with And
Headache by Acronym
Revising for Completeness
Revising for Conciseness
First Commandment: Eliminate Unnecessary Prepositions
Second Commandment: Avoid Weak Verbs
Third Commandment: Do Not Overuse the Passive Voice
Fourth Commandment: Make the Organism the Agent of the Action
Fifth Commandment: Incorporate Definitions into Your Sentences
Revising for Flow
A Short Exercise in Establishing Coherence
Improving Flow Using Punctuation
Revising for Teleology and Anthropomorphism
Revising for Spelling Errors
Revising for Grammar and Proper Word Usage
A Grammatical Aside: Rules-That-Are-Not-Rules
A Strategy for Revising: Pass by Pass by Pass
Becoming a Good Reviewer
Receiving Criticism
Fine-Tuning
Sentences in Need of Revision
Checklist
Technology Tip 5. Tracking Changes Made to Documents
PART II
Purchase Info ?
With CourseSmart eTextbooks and eResources, you save up to 60% off the price of new print textbooks, and can switch between studying online or offline to suit your needs.
Once you have purchased your eTextbooks and added them to your CourseSmart bookshelf, you can access them anytime, anywhere.
Buy Access
A Short Guide to Writing About Biology, CourseSmart eTextbook, 8th Edition
Format: Safari Book
$26.99 | ISBN-13: 978-0-205-85585-8