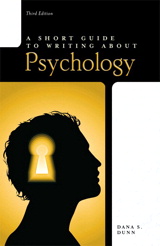 Description
Featuring the latest APA-style guidelines, this concise guide helps students master the skills and conventions they need to write well in psychology.
This brief guide takes students step-by-step through the writing process—from choosing a topic, to outlining, drafting, and revising their papers, to seeking feedback from peers. In addition, it presents thorough discussions of researching psychological literature, focusing on online and database research, and presenting those findings in written and oral formats. Special attention is given to interpreting and reporting the results of statistical tests, as well as preparing data displays in tables and figures. Introducing students to all elements of professional writing in APA style, this book is a perfect supplement for courses in the social science disciplines.
Table of Contents
PREFACE
1—WRITING ABOUT PSYCHOLOGY
Writing as a Process
Forms of Writing in Psychology
Student Papers
Introducing APA Style
Planning Your Writing: Timing Is Everything
Writing Habits
Exercises
2—SEARCHING THE PSYCHOLOGICAL LITERATURE
Selecting a Research Topic
Process Overview: Searching the Psychological Literature
Doing Library Research: Online Catalogs and Databases
Keeping Track of References
Exercises
3—READING THE PSYCHOLOGICAL LITERATURE
The Scientific Pecking Order: Why Journals Are First
How to Read and Evaluate the Literature
Taking Notes on What You Read
Recognizing and Preventing Plagiarism
Exercises
4—GETTING STARTED WRITING
Getting Started: Prewriting Activities
Writing a First Draft
Writing Subsequent Drafts
Revising: Top to Bottom Every Time
Exercises
5—WRITING APA-STYLE PAPERS: CONTENT AND GUIDANCE
Benefits of APA Style
Writing the Empirical, or Research, Paper in APA Style
A Sample Research Paper
Writing an Article Critique
Writing a Research Proposal
Writing a Literature Review Paper
Exercises
6—WRITING UP RESULTS
Conveying Statistical Results in Words
Reflecting Further on Your Results
Exercises
7—CITING REFERENCES IN APA STYLE
Citations and References
Basic Citation Mechanics
Formats for APA-Style References
Exercises
8—DISPLAYING DATA IN TABLES AND FIGURES
Tables
Figures
Exercises
9—FORMATTING AND PROOFREADING YOUR PAPER
Grammar Guidelines
Punctuation Basics
Some Common Usage Errors in Student Writing
Checking Your Spelling
Checking Your Writing Voice: Be Active, Not Passive
Using Inclusive Language
Guidelines for Formatting in APA Style
Proofreading the Penultimate Draft: Once More with Feeling
Exercises
10—BEYOND WRITING: PRESENTING PSYCHOLOGICAL RESEARCH
The Call for Papers
The Talk
Symposia: Talks in Common
Poster Presentations
Return to Writing: Submitting Your Research to a Journal
Exercises
Purchase Info ?
With CourseSmart eTextbooks and eResources, you save up to 60% off the price of new print textbooks, and can switch between studying online or offline to suit your needs.
Once you have purchased your eTextbooks and added them to your CourseSmart bookshelf, you can access them anytime, anywhere.
Buy Access
A Short Guide to Writing About Psychology, CourseSmart eTextbook
Format: Safari Book
$21.99 | ISBN-13: 978-0-205-79434-8