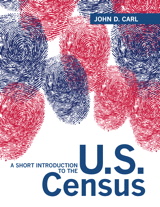 Description
A Short Introduction to the U.S. Census presents a brief seven-chapter overview of the Census, including important information about the Constitutional mandate, research methods, who is affected by the Census, and how data is used. Additionally, this primer explores key contemporary topics such as race and ethnicity, the family, and poverty.
Table of Contents
Ch 1: History and Science of the Census
Ch 2: Economic Trends and Employment
Ch 3: Issues of Race
Ch 4: Demographic changes in America - Gender
Ch 5: Demographic changes in America - Aging
Ch 6: Marriage and Family
Ch 7: Using Census Data
This title is also sold in the various packages listed below. Before purchasing one of these packages, speak with your professor about which one will help you be successful in your course.