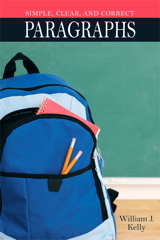 Description
With its brevity (288 pages) and low price, Simple, Clear, and Correct delivers quality instruction at an affordable price. Author Bill Kelly hones paragraph-writing skills and then extends the writing with an introdcution to the essay and documentation. A crisp grammar review helps readers with the basics of composition for clearer, more correct writing.
Table of Contents
Part I: Making a Start
Chapter 1: The Paragraph: Process and Product
Understanding the Paragraph: Definition and Explanation
Recognizing the Reading/Writing Connection
Reading Actively
Preparing a Summary
Preparing a Critical Paragraph
Chapter 2. Prewriting: Principles and Techniques
Prewriting Defined
Freewriting
Brainstorming
Clustering
Branching
Chapter 3. Composing: Creating a Topic Sentence and Draft Paragraph
Composing Defined
Developing an Effective Topic Sentence
Choosing and Developing Effective Supporting Sentences
Creating a First Draft Paragraph
Chapter 4. Revising: Refining Your Draft
Revising Defined
Reassessing for Unity, Coherence, and Language
Redrafting
Editing for Diction
Proofreading for Form
Part II: Understanding the Types and Techniques
Chapter 5. Narration
Providing a Topic Sentence for Narrative Context
Explaining Events in Chronological Order
Recognizing the Most Effective Point of View
Chapter 6. Description
Providing a Topic Sentence to Preview Your Description
Drawing Upon Sensory Details
Relying on Both Objective and Subjective Description
Considering Spatial Order
Chapter 7. Example
Providing a Topic Sentence to State the Point Being Illustrated
Choosing Specific Examples
Selecting Relevant Examples
Providing an Effective Arrangement
Chapter 8. Process
Providing a Topic Sentence To Clearly State the Procedure or Technique
Using the Imperative Mood When Appropriate
Dividing the Process into Simple, Logical Steps
Relying on Linear Order
Chapter 9. Definition
Providing a Topic Sentence to Highlight the Item or Idea
Understanding the Elements of Effective Definition
Recognizing All The Possible Meanings
Enhancing Definition through Synonyms, Negation, and Etymology
Chapter 10. Comparison and Contrast
Providing a Topic Sentence to Specify the Subjects and Focus
Establishing a Basis for Comparison
Including a Thorough Presentation
Arranging Ideas Effectively
Chapter 11. Cause and Effect
Providing a Topic Sentence to Focus on Cause or Effect
Distinguishing between Direct and Related Causes and Effects
Avoiding Oversimplification of Causes and Effects
Including an Effective Arrangement
Chapter 12. Division and Classification
Providing a Topic Sentence to Delineate the Scope and Identify the Focus as Division or Classification
Establishing a Logical Method of Analysis
Maintaining a Consistent Presentation
Using Distinct and Complete Groupings
Chapter 13. Argument
Providing a Topic Sentence to Identify a Clear Stance on an Issue
Including Sufficient Support
Using a Reasonable and Convincing Tone
Avoiding Errors in Logic
Arranging Supporting Sentences in Emphatic Order
Chapter 14. Moving Beyond the Paragraph: The Essay
Recognizing the Difference between a Paragraph and an Essay
Outlining Essay Structure: Introduction, Body, and Conclusion
Examining the Essay-Writing Process: Prewriting, Composing, and Revising
Understanding the Importance of the Thesis
Remember the Importance of Meeting the Reader's Needs
Part III: Mastering Form
Chapter 15. Parts of Speech
Chapter 16. Parts and Types of Sentences
Chapter 17. Fragments
Chapter 18. Comma Splices and Run-on Sentences
Chapter 19. Subject-verb Agreement
Chapter 20. Basic Tenses
Chapter 21. Irregular Verbs
Chapter 22. Verb Voice
Chapter 23. Noun and Pronoun Use
Chapter 24. Modifier Use
Chapter 25. Spelling
Chapter 26. Parallelism
Chapter 27. Punctuation
Chapter 28. Capitalization
Appendix, A Brief Guide to Documentation
Additional Course Materials
This title is also sold in the various packages listed below. Before purchasing one of these packages, speak with your professor about which one will help you be successful in your course.
Package ISBN-13: 9780321926395
Includes this title packaged with:
College Culture, Student Success (A Longman Topics Reader)
Debra J. Anderson
MyLab Writing Generic without Pearson eText -- Valuepack Access Card
. . Pearson Education
$88.73 $84.29 | Add to Cart