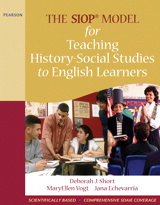 Description
Enhance your History-Social Studies content instruction with the SIOP Model and transform the academic English and content area skills of your English learners.
Based on the best-selling resource, Making Content Comprehensible for English Learners: The SIOP Model by acclaimed authors Jana Echevarria, MaryEllen Vogt, and Deborah Short; teachers, coaches, and intervention teachers have access to research-based, SIOP-tested techniques for lessons specifically for the History-Social Studies classrooms. This highly anticipated book, The SIOP Model for Teaching History-Social Studies to English Learners addresses the issues faced in teaching history-social studies to English learners (ELs) at each grade-level. SIOP techniques and activities organized around the eight SIOP components guide educators in promoting academic language development along with comprehensible content.
Written for SIOP teachers and those who have learned the SIOP Model, this book includes proven, effective lessons and comprehensive units. In addition, this book provides ideas to adapt the techniques for students at different levels of English proficiency. This book is sure to become an indispensable resource for history-social studies educators of English learners.
Table of Contents
PREFACE AND ACKNOWLEDGEMENTS
CHAPTER 1: THE ACADEMIC LANGUAGE OF HISTORY AND SOCIAL STUDIES
What is Academic Language?
How Is Academic Language Manifested in Classroom Discourse?
What is the Academic Language of Social Studies and History ?
Why Do English Learners Have Difficulty with Academic Language?
How Can We Effectively Teach Academic Language With the SIOP Model?
Academic Vocabulary
Oral Discourse
Concluding Thoughts
CHAPTER 2: ACTIVITIES AND TECHNIQUES FOR PLANNING SIOP HISTORY-SOCIAL STUDIES LESSONS: LESSON PREPARATION, BUILDING BACKGROUND, COMPREHENSIBLE INPUT, & STRATEGIES (BY JOHN SEIDLITZ, ROBIN LITEN-TEJADA, AND DEBORAH SHORT)
John Michael's Teaching Situation
Introduction
History and Social Studies Techniques and Activities
Lesson Preparation
Building Language Objectives from Content Objectives
Differentiating Sentence Starters
Building Background
Concrete Personal Experiences
Post a Connection
Oh Yesterday! + Year
Predict Definitions
Vocabulary Scan
Comprehensible Input
Prop Box Improv
Listen for Information
Move It!
Strategies
Highlight Key Information in the Text
Cut and Match Answers
Expert/Novice
Concluding Thoughts
CHAPTER 3: ACTIVITIES AND TECHNIQUES FOR PLANNING SIOP HISTORY-SOCIAL STUDIES LESSONS: INTERACTION, PRACTICE & APPLICATION, LESSON DELIVERY, REVIEW & ASSESSMENT (BY ROBIN LITEN-TEJADA, JOHN SEIDLITZ, AND DEBORAH SHORT)
Introduction
Interaction
Structured Conversations
Learning Styles Debate
You Are There
Practice & Application
Readers Theater
Living Diorama
Partner Listening Dictation
Go Graphic — One Step Further
Lesson Delivery
Group Response with a White Board
Chunk and Chew Review
Stand Up/Sit Down
Review & Assessment
Oral Number 1-3 for Self-Assessment
Writing Self-Assessment Rubrics
Number Wheels
Whip Around, Pass Option
Numbered Heads Together with Movement
Differentiated Tickets Out
Concluding Thoughts
Revisiting Mr. Michaels
CHAPTER 4: SIOP HISTORY AND SOCIAL STUDIES UNIT DESIGN AND LESSON PLANNING
Ms. Parry's Vignette
Introduction
SIOP Unit Design
SIOP Unit Planner 1
SIOP Unit Planner 2
SIOP Lesson Planning
Technology in SIOP Lessons
SIOP History — Social Studies Lesson Formats
Concluding Thoughts
CHAPTER 5: SIOP SOCIAL STUDIES UNIT, GRADES K-2 (BY ROBIN LITEN-TEJADA AND DEBORAH SHORT)
Introduction
Past and Present
Lesson 1
Lesson 2
Lesson 3
Lesson 4
Lesson 5
Lesson 6
Concluding Thoughts
CHAPTER 6: SIOP SOCIAL STUDIES UNIT, GRADES 3-5 (BY ROBIN LITEN-TEJADA AND DEBORAH SHORT)
Introduction
Where in the World Are You?
Lesson 1
Lesson 2
Lesson 3
Lesson 4
Lesson 5
Lesson 6
Concluding Thoughts
CHAPTER 7: SIOP U.S. HISTORY UNIT, GRADES 6-8 (BY JOHN SEIDLITZ AND DEBORAH SHORT)
Introduction
Causes of the American Revolution
Lesson 1
Lesson 2
Lesson 3
Lesson 4
Concluding Thoughts
CHAPTER 8: SIOP GLOBAL HISTORY UNIT, GRADES 9-12 (BY JOHN SEIDLITZ AND DEBORAH SHORT)
Introduction
Containing Communism After World War II
Lesson 1
Lesson 2
Lesson 3
Lesson 4
Lesson 5
Concluding Thoughts
CHAPTER 9: PULLING IT ALL TOGETHER
What We Have Learned
What Our SIOP History and Social Studies Contributors Have Learned
Final Thoughts
APPENDIX A: COMPONENTS AND FEATURES OF THE SIOP MODEL
APPENDIX B: EXAMPLES OF ACADEMIC LANGUAGE IN HISTORY AND SOCIAL STUDIES STANDARDS (K-2, 3-5, 6-8, 9-12)
APPENDIX C: BLACKLINE MASTERS FOR K-2, 3-5, 6-8, & 9-12 UNITS
REFERENCES
INDEX