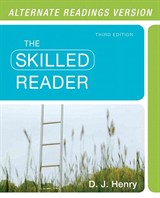 Description
ALERT: Before you purchase, check with your instructor or review your course syllabus to ensure that you select the correct ISBN. Several versions of Pearson's MyLab & Mastering products exist for each title, including customized versions for individual schools, and registrations are not transferable. In addition, you may need a CourseID, provided by your instructor, to register for and use Pearson's MyLab & Mastering products.
Packages
Access codes for Pearson's MyLab & Mastering products may not be included when purchasing or renting from companies other than Pearson; check with the seller before completing your purchase.
Used or rental books
If you rent or purchase a used book with an access code, the access code may have been redeemed previously and you may have to purchase a new access code.
Access codes
Access codes that are purchased from sellers other than Pearson carry a higher risk of being either the wrong ISBN or a previously redeemed code. Check with the seller prior to purchase.
--
The Skilled Reader: Alternate Readings Edition combines high interest readings, solid skill instruction, and a wealth of guided practice to develop the quintessential abilities students need to become effective readers and critical thinkers.
0321905830 / 9780321905833 Skilled Reader, The, Alternate Edition with NEW MyReadingLab with eText -- Access Card Package
Package consists of:
0205869165 / 9780205869169 NEW MyReadingLab with Pearson eText -- Valuepack Access Card
0321880331 / 9780321880338 Skilled Reader, The, Alternate Edition
Table of Contents
Preface.
I. BECOMING A SKILLED READER.
1. A Reading System for Skilled Readers
Prior Knowledge.
The Reading Process.
Textbook Skills: Before, During, and After Reading—Asking Questions and Recording Answers.
2. Vocabulary in Context.
The Importance of Words.
Context Clues: A SAGE Approach.
Textbook Skills: Visual Vocabulary.
3. Vocabulary-Building Skills.
Word Parts.
Additional Word Parts.
The Dictionary.
Textbook Skills: Textbook Aids for Learning Content Words.
4. Topics and Main Ideas.
Topics.
Main Ideas.
Supporting Details.
Textbook Skills: Topics in Headings.
5. Locating Stated Main Ideas.
The Flow of Ideas and Placement of Topic Sentences.
Textbook Skills: The Central Point and the Thesis Statement.
6. Implied Main Ideas.
An Introduction to Implied Main Ideas
Studying Supporting Details to Identify the State and Topic
Using Topics, Supporting Details, and Thought Patterns to Determine the Implied Main Idea.
Annotating the Paragraph to Determine the Implied Main Idea.
Creating a One-Sentence Summary from Supporting Details.
Textbook Skills: Pictures as Details.
7. Supporting Details, Outlines, and Concept Maps.
Questions for Locating Supporting Details.
Major and Minor Details.
Textbook Skills: Ideas from General to Specific: Creating a Summary.
8. Outlines and Concept Maps.
Outlines.
Concept Maps.
Textbooks Skills: The Table of Contents in a Textbook.
9. Transitions and Thought Patterns.
The Purpose of Transitions and Thought Patterns.
Transition Words: Relationships Within a Sentence.
Thought Patterns: Relationships Between Sentences.
Textbook Skills: Transitions and Clear Information.
10. More Thought Patterns.
Comparison and Contrast Patterns.
Cause and Effect Pattern.
The Generalization-and-Example. Pattern.
Textbook Skills: The Definition Pattern.
Final Note: Though Patterns and Textbooks.
11. Inferences.
Inferences: Educated Guesses.
What is a Valid Inference?
Making VALID Inferences and Avoiding Invalid Conclusions.
Thinking Through an Inference and Drawing Conclusions.
Textbook Skills: Inferences and Photos.
II. ADDITIONAL READINGS.
Social Media
Generation FB
Katrin Bennhold
Fugitives Who Love Facebook
Winston Ross
Work in the 21st Century
Somebody's Gotta Get Hired, Right? 6 Tips to Help New Grads Land Jobs
Dan Schawbel
Are Jobs Obsolete?
Douglas Rushkoff
The Economy
The Invisible Rich
Knight Kiplinger
Average Is Over
Thomas Freidman
Sports
Junior Seau, Dead at 43
Josh Levin
Exit Sandman
Brian Palmer
The Obesity Crisis
Supersize It
James Verini
America's Hatred of Fat Hurts Obesity Fight
Sharon Begley
III. COMBINED SKILLS TESTS.
Chapter Review Cards.
IV. READING ENRICHMENT
Appendix A: ESL Reading Tips.
Appendix B: Reading Graphics.
Appendix C: Word Parts.