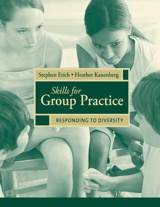 Description
Skills for Group Practice: A Response to Diversity contains role play exercises for students learning the skills needed to practice with treatment and task groups. Throughout, it empha­sizes working with widely diverse communities and people.
The exercises focus on all levels of practice - macro, mezzo, and micro levels of practice with diverse groups, including: sex, sexual orientation, gender identity/expression, race, ethnic back­ground, language, national origin, religion, marital status, class, health status, mental or phys­ical ability, age, socio-economic status, and political belief.
Table of Contents
PREFACE
Acknowledgments

CONTRIBUTOR NOTES

SECTION 1: USING THE TEXT
Chapter 1: Introduction & What To Expect
The Chapters: Deconstructed
The Joker(s)

Reflection/Process Prompts
Theory Review
Person in Environment Perspectives

System Theories

The Ecological Model


Ecological Perspective

Field Theory

Structural Functionalism

Feminist Theories

Queer Theory

Strengths Perspective

Empowerment Perspective

Cognitive/Behavioral Theories

Psychodynamic Theory
Skills
Chart: Group and Individual Skills
Stages of Group Development
Brief Checklist of Items to Remember When Facilitating a Group
SECTION 2: OPEN MEMBERSHIP TREATMENT GROUPS
Chapter 2: Lesbian, Gay, Bisexual, Transgender, Instersex, Queer/Questioning (LGBTIQ) Adolescents "Coming Out" group.
Before You Begin
Scenario
Group Facilitator Tasks

Roles for Group Members

Observer Tasks

Reflecting on the Group Session

Summary, Key Concepts and Principles

Web Resources
Chapter 3:School-based Social Worker and At Risk Adolescents
Before You Begin
Scenario
Group Facilitator Tasks

Roles for Group Members

Observer Tasks

Reflecting on the Group Session

Summary, Key Concepts and Principles

Web Resources
Chapter 4: Social, Economic, and Cultural Context of African Americans living with HIV/AIDS in the Open Community
Before You Begin
Scenario
Group Facilitator Tasks

Roles for Group Members

Observer Tasks

Reflecting on the Group Session

Summary, Key Concepts and Principles

Web Resources
Chapter 5: Veterans with Post Traumatic Stress Disorder (PTSD)
Before You Begin
Scenario
Group Facilitator Tasks

Roles for Group Members

Observer Tasks

Reflecting on the Group Session

Summary, Key Concepts and Principles

Web Resources
Chapter 6: Younger and Older Adolescents in Residential Treatment
Before You Begin
Scenario
Group Facilitator Tasks

Roles for Group Members

Observer Tasks

Reflecting on the Group Session

Summary, Key Concepts and Principles

Web Resources
SECTION 3: CLOSED AND TIME LIMITED TREATMENT GROUPS
Chapter 7: Single Mothers who Have Experienced Episodic Homelessness
Before You Begin
Scenario
Group Facilitator Tasks

Roles for Group Members

Observer Tasks

Reflecting on the Group Session

Summary, Key Concepts and Principles

Web Resources
Chapter 8: Bi-Racial Couples
Before You Begin
Scenario
Group Facilitator Tasks

Roles for Group Members

Observer Tasks

Reflecting on the Group Session

Summary, Key Concepts and Principles

Web Resources
Chapter 9: Post-Adoption Family Group
Before You Begin
Scenario
Group Facilitator Tasks
Roles for Group Members
Observer Tasks
Reflecting on the Group Session
Summary, Key Concepts and Principles
Web Resources
Chapter 10: Adults With Substance Abuse Disorders
Before You Begin
Scenario
Group Facilitator Tasks

Roles for Group Members

Observer Tasks

Reflecting on the Group Session

Summary, Key Concepts and Principles

Web Resources
Chapter 11: Demonstrating the Use of Group Supervision
Before You Begin
Scenario
Group Facilitator Tasks

Roles for Group Members

Observer Tasks

Reflecting on the Group Session

Summary, Key Concepts and Principles

Web Resources
Chapter 12: Hospice Planning for Loss: Children With a Parent Who Has a Terminal Illness
Before You Begin
Scenario
Group Facilitator Tasks

Roles for Group Members

Observer Tasks

Reflecting on the Group Session

Summary, Key Concepts and Principle

Web Resources
Chapter 13: Couples Who have One Partner With a Terminal Form of Cancer
Before You Begin
Scenario
Group Facilitator Tasks

Roles for Group Members

Observer Tasks

Reflecting on the Group Session

Summary, Key Concepts and Principle

Web Resources
Chapter 14: Adult Parolees
Before You Begin
Scenario
Group Facilitator Tasks

Roles for Group Members

Observer Tasks

Reflecting on the Group Session

Summary, Key Concepts and Principle

Web Resources
SECTION 4: TASK GROUPS
Chapter 15: A Social Action Committee Addressing Neighborhood Gang Violence
Before You Begin
Scenario
Group Facilitator Tasks

Roles for Group Members

Observer Tasks

Reflecting on the Group Session

Summary, Key Concepts and Principle

Web Resources
Chapter 16: A Social Work Political Action Committee
Before You Begin
Scenario
Group Facilitator Tasks

Roles for Group Members

Observer Tasks

Reflecting on the Group Session

Summary, Key Concepts and Principle

Web Resources
Chapter 17: A Community Health Coalition
Before You Begin
Scenario
Group Facilitator Tasks

Roles for Group Members

Observer Tasks

Reflecting on the Group Session

Summary, Key Concepts and Principle

Web Resources
Chapter 18: An Intra-Agency Grant Writing Team
Before You Begin
Scenario
Group Facilitator Tasks

Roles for Group Members

Observer Tasks

Reflecting on the Group Session

Summary, Key Concepts and Principle

Web Resources
Chapter 19: A Community Council in a Refugee Camp in an Unnamed Country in Southern Africa
Before You Begin
Scenario
Group Facilitator Tasks

Roles for Group Members

Observer Tasks

Reflecting on the Group Session

Summary, Key Concepts and Principle

Web Resources
Chapter 20: Promotion and Support of the Practice of Self Care and Social Work
Before You Begin
Scenario
Group Facilitator Tasks

Roles for Group Members

Observer Tasks

Reflecting on the Group Session

Summary, Key Concepts and Principle

Web Resources
APPENDICES
Appendix 1: Sample Treatment Group Agenda

Appendix 2: Sample Task Group Agenda

Appendix 3: Central State Voting Guide (For use in Chapter 16)
REFERENCES