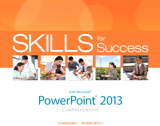 Description
For use in the PowerPoint course
Skills for Success is the Microsoft Office 2013 textbook that recognizes how students learn today!
The Office Skills text that was designed with today's students—and the way today's students use an Office textbook—in mind.
With Skills for Success, Microsoft Office 2013 is at your fingertips!
With Office 2013, Microsoft is taking the office to the cloud. You can now open and save your files from any computer without a USB flash drive.
The Skills for Success series shows students how to get the most out of Office 2013 no matter what device they are using —a traditional desktop or tablet.
Whether you are tapping and sliding with your finger or clicking and dragging with the mouse, Skills for Success shows you the way.
Teaching and Learning Experience
This program will provide a better teaching and learning experience—for you and your students. Here's how:
Personalized Learning: MyITLab delivers proven results in helping students succeed, provides engaging experiences that personalize learning, and comes from a trusted partner with educational expertise and a deep commitment to helping students and instructors achieve their goals.
Designed for a New Generation of Learners: The Skills for Success series is specifically designed to enhance usability and fit the work style of today's students.
Support for Students and Instructors: Supplements enhance the learning process for students, while instructor resources are designed to make your life easier.
This title is also sold in the various packages listed below. Before purchasing one of these packages, speak with your professor about which one will help you be successful in your course.
Package ISBN-13: 9780133773590
Includes this title packaged with:
NEW MyITLab -- Access Card -- for Skills with Technology In Action, Complete (Replacement Card), 10th Edition
Alan Evans, Kendall Martin, Mary Anne Poatsy
NEW MyITLab -- Access Card -- for Skills for Success + Technology in Action with Office 2013 Volume 1, 2nd Edition
Kris Townsend, Robert Ferrett, Catherine Hain, Alicia Vargas, Shelley Gaskin, Alan Evans, Kendall Martin, Mary Anne Poatsy
Office 365 Home Premium Academic -- 180-Day Trial Access Card, 2nd Edition
Microsoft Corporation
$186.07 | Add to Cart
Purchase Info
Digital Choices
MyLab & Mastering ?
MyLab & Mastering products deliver customizable content and highly personalized study paths, responsive learning tools, and real-time evaluation and diagnostics. MyLab & Mastering products help move students toward the moment that matters most—the moment of true understanding and learning.
eTextbook ?
With CourseSmart eTextbooks and eResources, you save up to 60% off the price of new print textbooks, and can switch between studying online or offline to suit your needs.
Once you have purchased your eTextbooks and added them to your CourseSmart bookshelf, you can access them anytime, anywhere.