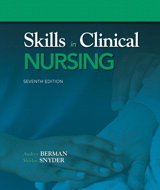 Description
Intended as a primary textbook for nursing education programs and as a reference for practicing nurses.
Completely revised and updated to reflect significant changes in practice Skills in Clinical Nursing 7e, provides current information in a clear, concise format and continues to be a definitive source for clinical nursing skills. Progressing from the simple to the complex, each chapter places techniques in perspective to client anatomy, physiology, and pathophysiology. Applying the nursing process to each technique, it illustrates a detailed step-by-step implementation while providing a thorough overview of the rationale and purpose.
Table of Contents
Unit 1 Introduction
Chapter 1 Foundational Skills
Unit 2 Health Assessment
Chapter 2 Vital Signs
Chapter 3 Health Assessment
Chapter 4 Diagnostic Testing
Unit 3 Assisting with Client Hygiene and Comfort
Chapter 5 Client Hygiene
Chapter 6 Bed-Making
Chapter 7 Infection Control
Chapter 8 Heat and Cold Therapy
Chapter 9 Pain Management
Unit 4 Mobility and Safety
Chapter 10 Positioning the Client
Chapter 11 Mobilizing the Client
Chapter 12 Fall Prevention and Restraints
Chapter 13 Maintaining Joint Mobility
Unit 5 Medication Administration
Chapter 14 Drug Calculations
Chapter 15 Administering Oral and Enteral Medications
Chapter 16 Administering Topical Medications
Chapter 17 Administering Parenteral Medications
Chapter 18 Administering Intravenous Therapy
Unit 6 Nutrition and Elimination
Chapter 19 Feeding Clients
Chapter 20 Assisting with Urinary Elimination
Chapter 21 Assisting with Fecal Elimination
Chapter 22 Caring for Clients with Peritoneal Dialysis
Unit 7 Circulatory and Ventilatory Support
Chapter 23 Promoting Circulation
Chapter 24 Breathing Exercises
Chapter 25 Oxygen Therapy
Chapter 26 Suctioning
Chapter 27 Caring for the Client with a Tracheostomy
Chapter 28 Assisting with Mechanical Ventilation
Chapter 29 Caring for the Client with Chest Tube Drainage
Chapter 30 Administering Emergency Measures to the Hospitalized Client
Unit 8 Wounds and Injury Care
Chapter 31 Performing Wound and Pressure Ulcer Care
Chapter 32 Orthopedic Care
Chapter 33 Performing Perioperative Care
Chapter 34 End-of-Life Care
Purchase Info ?
With CourseSmart eTextbooks and eResources, you save up to 60% off the price of new print textbooks, and can switch between studying online or offline to suit your needs.
Once you have purchased your eTextbooks and added them to your CourseSmart bookshelf, you can access them anytime, anywhere.
Buy Access
Skills in Clinical Nursing, CourseSmart eTextbook, 7th Edition
Format: Safari Book
$46.99 | ISBN-13: 978-0-13-214973-0