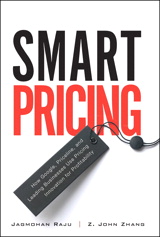 Description
In Smart Pricing: How Google, Priceline and Leading Businesses Use Pricing Innovation for Profitability, Wharton professors and renowned pricing experts Jagmohan Raju and Z. John Zhang draw on examples from high tech to low tech, from consumer markets to business markets, and from U.S. to abroad, to tell the stories of how innovative pricing strategies can help companies create and capture value as well as customers. They teach the pricing principles behind those innovative ideas and practices.
Smart Pricing introduces many innovative approaches to pricing, as well as the research and insights that went into their creation. Filled with illustrative examples from the business world, readers will learn about restaurants where customers set the price, how Google and other high-tech firms have used pricing to remake whole industries, how executives in China successfully start and fight price wars to conquer new markets.
Smart Pricing goes well beyond familiar approaches like cost-plus, buyer-based pricing, or competition-based pricing, and puts a wide variety of pricing mechanisms at your disposal. This book helps you understand them, choose them, and use them to win.
Table of Contents
About the Authors xi
Introduction Fingerprints of the Invisible Hand 1
Chapter 1 "Pay As You Wish" Pricing 19
Chapter 2 Why the Best Things in Life Are Free 41
Chapter 3 The Art of Price Wars 59
Chapter 4 Thinking Small 79
Chapter 5 The Automatic Markdown 101
Chapter 6 Name Your Own Price 119
Chapter 7 Subscribe and Save: Pricing for Marketing Profitability 139
Chapter 8 The Snob Premium 161
Chapter 9 Pay if it Works 181
Chapter 10 Conclusion 201
Index 207
Purchase Info
ISBN-10: 0-13-707192-2
ISBN-13: 978-0-13-707192-0
Format: Safari PTG
This publication is not currently for sale.