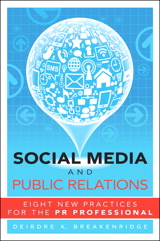 Description
In Social Media and Public Relations: Eight New Practices for the PR Professional, social marketing pioneer Deirdre Breakenridge teaches and demonstrates the eight new skills and mindsets PR/marketing pros need to build brands and engage customers in a social world. This concise, action-oriented book shows practitioners how to systematically expand their roles, improve their processes, and sharpen their strategies to engage with today's more sophisticated and socialized customers. Drawing on her extensive client experience, Breakenridge helps you respond to consumers who demand control over their own brand relationships… marry communications with technology more effectively, and become your organization's go-to resource on social technology decisions… reflect social media realities throughout your policies and governance… generate greater internal collaboration, eliminating silos once and for all… listen to consumers' conversations, and apply what you're learning… build communications crisis plans you can implement at a moment's notice… develop profound new insights into how consumers construct and perceive their brand relationships.,. practice "reputation management on steroids"… take the lead on identifying and applying metrics… and much more. For all PR, marketing, and communications executives and professionals; and for students intending to enter these fields.
Table of Contents
Foreword by David Armano viii
Introduction: When Social Media Meets PR, Communication Unites with Technology 1
Chapter 1 PR Practice #1: The PR Policymaker 8
Chapter 2 New Practice #2: The Internal Collaboration Generator 23
Chapter 3 New Practice #3: The PR Technology Tester 37
Chapter 4 New Practice #4: The Communications (COMMS) Organizer 54
Chapter 5 New Practice #5: The Pre-Crisis Doctor 71
Chapter 6 New Practice #6: The Relationship Analyzer 87
Chapter 7 New Practice #7: Reputation Task Force Member 103
Chapter 8 New Practice #8: Master of the Metrics 118
Chapter 9 Using Your New PR Practices to Become an Influencer and Change Agent 134
Chapter 10 The Future of PR and Social Media 146
Appendix The Social Media Strategy Wheel 157
Index 160


Purchase Info
ISBN-10: 0-13-298327-3
ISBN-13: 978-0-13-298327-3
Format: Safari PTG
This publication is not currently for sale.