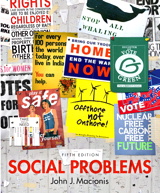 Description
Frames social problems and solutions through politics.
Macionis's book is the only social problems text that explains how society frames social problems and solutions through politics.
The text analyzes social issues and policies, using the concepts of sociological theory and the everyday language of politics. It also helps students understand the attitudes and values that define the political spectrum in the United States. Once students know how social problems are defined by our society through politics, and how the policies to solve these problems are developed, they can become involved in solving social problems through activism and political involvement.
Teaching & Learning Experience
Personalize Learning – The new MySocLab delivers proven results in helping students succeed, provides engaging experiences that personalize learning, and comes from a trusted partner with educational expertise and a deep commitment to helping students and instructors achieve their goals.

Improve Critical Thinking – Chapter organization follows a logical framework that traces a problem from its origin to solution.

Engage Students – International, national, and personal examples help students understand issues better.

Explore Theory – Major sociological theories and how they explain each social problem are discussed.

Understand Diversity – Features help students think globally about defining a solution to social problems.

Support Instructors – The only Social Problems text with an annotated instructor's edition. Also, author-written test bank provides the best support for instructors.
Note: MySocLab does not come automatically packaged with this text. To purchase MySocLab, please visit: www.mysoclab.com or you can purchase a ValuePack of the text + NEW MySocLab (at no additional cost): ValuePack ISBN-10: 0205949193 / ValuePack ISBN-13: 9780205949199.