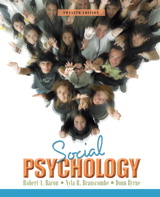 Description
Social Psychology, 12E is the text that shows students how the ever-changing field of social psychology is useful in their everyday lives!
This classic text retains the hallmark of its own past success: up-to-date coverage of the quickly evolving subject matter written in a lively manner that has been embraced by hundreds of thousands of students around the world. This book continues to balance its coverage of fundamentals with current research.
Table of Contents
Social Psychology: The Science of the Social Side of Life.

Social Cognition: How We Think About the Social World.

Social Perception: Perceiving and Understanding Others.

Attitudes: Evaluating and Responding to the Social World.

The Self: Answering the Question: "Who Am I?"

The Causes, Effects, and Cures of Stereotyping, Prejudice, and Discrimination.

Interpersonal Attraction and Close Relationships

Social Influence: Changing Others' Behavior.

Prosocial Behavior: Helping Others.

Aggression: Its Nature, Causes, and Control.

Groups and Individuals: The Consequences of Belonging.

Social Psychology: Applying Its Principles to Law, Health, and Business.