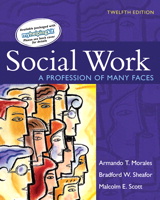 Description
This best-selling text continues to offer a comprehensive introduction to the field of social work with a unique focus on the diverse groups to whom social workers provide services; including children, older adults, disabled persons, and members of minority racial and ethnic groups.
It covers the emergence of the profession of social work, career oportunities for social workers, and the values and competencies required of social workers.
Timely issues that this edition addresses include the following: the events of 9/11 and their dramatic influence on human services in the United States; the United States involvement in Middle East warfare; the physical and emotional damage to individuals involved in Middle East warfare; and the 2000 Census---how substantial changes in the U.S. population suggest a need for realignment of social services.
Table of Contents
Preface
part one
A Social Worker Makes a Difference
chapter 1 A Child Welfare Case: The Social Worker in Action
PREFATORY COMMENT

Demetria's First Case

CONCLUDING COMMENT
part two
Social Work in U.S. Society
chapter 2 Social Welfare: A Response to Human Need
PREFATORY COMMENT

Social Welfare Programs

The Evolution of Social Welfare

Social Welfare in the Early 2000s

The Successes and Failures of

Human Service Programs

CONCLUDING COMMENT

KEY WORDS AND CONCEPTS

SUGGESTED INFORMATION SOURCES

ENDNOTES
chapter 3 Social Work: A Comprehensive Helping Profession
PREFATORY COMMENT

The Central Themes Underpinning Social Work

The Mission of Social Work

Defining Social Work

Social Work Practice Approaches

Social Workers: Their Many Faces

CONCLUDING COMMENT

KEY WORDS AND CONCEPTS

SUGGESTED INFORMATION SOURCES

ENDNOTES
chapter 4 The Emergence of Social Work as a Profession
PREFATORY COMMENT

Social Work as a Profession: A Historical Perspective

Social Work Confronts a Disaster: Evidence of a Maturing Profession

CONCLUDING COMMENT

KEY WORDS AND CONCEPTS

SUGGESTED INFORMATION SOURCES

ENDNOTES
part three
Social Work Career Options
chapter 5 Entry to the Social Work Profession
PREFATORY COMMENT

Issues in Social Work Preparation and Employment

Options for Human Service Practice

Levels of Professional Social Work Practice

CONCLUDING COMMENT

KEY WORDS AND CONCEPTS

SUGGESTED INFORMATION SOURCES

ENDNOTES
chapter 6 Fields of Social Work Practice
PREFATORY COMMENT

Aging

Alcohol and Substance Abuse

Child Welfare

Community/Neighborhood Work

Corrections/Criminal Justice

Disabilities (Physical and Mental)

Family Services

Income Maintenance

Medical and Health Care

Mental Health and Illness

Occupational or Industrial Social Work

Schools

Youth Services

CONCLUDING COMMENT

KEY WORDS AND CONCEPTS

SUGGESTED INFORMATION SOURCES

ENDNOTES
chapter 7 Settings for Social Work Practice
PREFATORY COMMENT

Characteristics of Practice Settings

Issues Affecting Agency-Based Practice

Issues in Private Practice

CONCLUDING COMMENT

KEY WORDS AND CONCEPTS

SUGGESTED INFORMATION SOURCES

ENDNOTES
chapter 8 Values and Ethics in Social Work
PREFATORY COMMENT

The Nature of Values

The Place of Values in Social Work

Social Values in U.S. Society

Values Held by Social Workers

Areas of Practice Addressed by the NASW Code of Ethics

Illustrations of Values and Ethics Operating in Social Work Practice

CONCLUDING COMMENT

KEY WORDS AND CONCEPTS

SUGGESTED INFORMATION SOURCES

ENDNOTES
chapter 9 Identifying the Knowledge and Skills Required for Social Work Practice
PREFATORY COMMENT

The Universal Social Work Competencies

Frequently Utilized Social Work Competencies

Competencies Occasionally Needed by Social Workers

Low Utilization Competencies for Most Social Workers

CONCLUDING COMMENT

KEY WORDS AND CONCEPTS

SUGGESTED INFORMATION SOURCES

ENDNOTES
part four
Contemporary Issues Facing Social Work and Social Workers
chapter 10 Spirituality in a Secular Profession
PREFATORY COMMENT

Historical Context of Spirituality in the Human Services

Social Work Education and Spirituality/Religion

Religion and Spirituality in Cultural Competence

Spirituality and Religion in Professional Practice

A Case Vignette: Christian's Spiritual Challenge

CONCLUDING COMMENT

KEY WORDS AND CONCEPTS

SUGGESTED INFORMATION SOURCES

ENDNOTES
chapter 11 Social Work's Dual Focus on Solving and Preventing Problems
PREFATORY COMMENT

The Social Worker's Role in Problem Solving

The Social Worker's Role in Problem Prevention

Balancing Problem Solving with Problem Prevention

CONCLUDING COMMENT

KEY WORDS AND CONCEPTS

SUGGESTED INFORMATION SOURCES

ENDNOTES
chapter 12 Social Work's Role in Addressing Terrorism
PREFATORY COMMENT

Examples of Terrorism

Terrorism and Terrorist Gangs

Social Workers and Work with Gangs

Types of Gangs

Micro Social Work Practice with Gangs

Macro Intervention with Domestic

Terrorist Gangs

CONCLUDING COMMENT

KEY WORDS AND CONCEPTS

SUGGESTED INFORMATION SOURCES

ENDNOTES
chapter 13 Social Work with U.S. Casualties of the Middle East Wars
PREFATORY COMMENT

Social Work with Soldiers and Veterans

Social Work with the Families of Soldiers and Veterans

Social Programs for Soldiers and Veterans

Social Work Practice during Reintegration Efforts

Special Considerations Regarding Today's Victims of War

Social Work and the Prevention of War

CONCLUDING COMMENT

KEY WORDS AND CONCEPTS

SUGGESTED INFORMATION SOURCES

ENDNOTES
chapter 14 Social Work Practice with Immigrants, Refugees, and Unaccompanied Minors
PREFATORY COMMENT

Immigration Gateways

Social Work with Immigrants, Refugees, and Unaccompanied Minors

Immigrants and Refugees: Areas of Concern for Social Work Practitioners

Unaccompanied Minors: Areas of Concern for Social Workers

A Case Vignette

CONCLUDING COMMENT

KEY WORDS AND CONCEPTS

SUGGESTED INFORMATION SOURCES

ENDNOTES
chapter 15 Social Work Becoming a Global Profession
PREFATORY COMMENT

World Population Changes: Creating a Global Demand for Social Work in the Future

Social Welfare Programs: A Varied Response to Human Need

A Global Approach to Social Work

Employment in International Social Work

CONCLUDING COMMENT

KEY WORDS AND CONCEPTS

SUGGESTED INFORMATION RESOURCES

ENDNOTES
part five
Social Work Practice with Vulnerable Populations
chapter 16 Social Work Practice with Women
PREFATORY COMMENT

Current Demographics

Health and Mental Health Risk Factors

Ecosystems Model

Intervention Strategies

Emerging Issues and Trends

CONCLUDING COMMENT

KEY WORDS AND CONCEPTS

SUGGESTED INFORMATION SOURCES

ENDNOTES
chapter 17 Social Work Practice with Lesbian, Gay, and Bisexual People
PREFATORY COMMENT

Understanding the GLB Population

Ecosystems Framework

Macro Practice with Lesbian, Gay, and Bisexual People

Micro Practice with Lesbian, Gay, and Bisexual People

Emerging Issues and Trends

CONCLUDING COMMENT

KEY WORDS AND CONCEPTS

SUGGESTED INFORMATION SOURCES

ENDNOTES
chapter 18 Social Work Practice with Children and Youth
PREFATORY COMMENT

Current Demographics

The Ecosystems Model

Macro Considerations

CONCLUDING COMMENT

KEY WORDS AND CONCEPTS

SUGGESTED INFORMATION SOURCES

ENDNOTES
chapter 19 Social Work Practice with Older Adults
PREFATORY COMMENT

Demographic Factors Affecting Human Services for Older Adults

Ecosystems Model Analysis

Intervention Strategies with Older People

A Case Example of Social Work Practice with an Older Adult

Trends in Gerontological Social Work

CONCLUDING COMMENT

KEY WORDS AND CONCEPTS

SUGGESTED INFORMATION SOURCES

ENDNOTES
chapter 20 Social Work Practice with People with Disabilities
PREFATORY COMMENT

Defining Disability

Disability and the Minority Model

Societal Responses to Disability

The Ecosystems Model and People with Disabilities

Emerging Issues for Social Work Practice with People with Disabilities

CONCLUDING COMMENT

KEY WORDS AND CONCEPTS

SUGGESTED INFORMATION SOURCES

ENDNOTES
chapter 21 Social Work Practice with Muslims in the United States
PREFATORY COMMENT

A Preliminary Understanding of Islam

The Demographics of Muslims in the United States

Muslim Families

Common Cultural Values in Islamic Discourse

Structural Factors in the Social Environment

Historical Factors

Implications for Micro and Macro Practice

CONCLUDING COMMENT

KEY WORDS AND CONCEPTS

SUGGESTED INFORMATION SOURCES

ENDNOTES
chapter 22 Social Work Practice with Asian Americans
PREFATORY COMMENT

Selected Characteristics of the Asian American Population

Health and Mental Health Risk Factors

Ethnic Group Stressors

Service Systems

Micro Practice Perspectives

Ecosystems Model Framework

Macro Practice Perspectives

Emerging Issues

CONCLUDING COMMENT

KEY WORDS AND CONCEPTS

SUGGESTED INFORMATION SOURCES

ENDNOTES
chapter 23 Social Work Practice with Indigenous Peoples and Tribal Communities
PREFATORY COMMENT

Current Demographics

Key Social Issues

The Ecosystems Framework

Social Work with Native People: Case Examples

CONCLUDING COMMENT

KEY WORDS AND CONCEPTS

SUGGESTED INFORMATION SOURCES

ENDNOTES
chapter 24 Social Work Practice with Mexican Americans
PREFATORY COMMENT

Demographic Profile

Ecosystems Model

Micro Social Work Practice with Mexican Americans

Macro Social Work Practice with Mexican Americans

CONCLUDING COMMENT

KEY WORDS AND CONCEPTS

SUGGESTED INFORMATION SOURCES

ENDNOTES
chapter 25 Social Work Practice with African Americans
PREFATORY COMMENT

Current Population Demographics

Selected Social Issues

The Ecological Systems Model and African Americans: A Social Worker's Perspective

Social Work Practice with African Americans: A Case Example

Competent Social Work Practice with African American Clients

Emerging Considerations for Work with African Americans

CONCLUDING COMMENT

KEY WORDS AND CONCEPTS

SUGGESTED INFORMATION SOURCES

ENDNOTES
chapter 26 Social Work Practice with Puerto Ricans
PREFATORY COMMENT

Current Demographics

Health and Mental Health Risk Factors

General Data on Health Care and Puerto Ricans

Beliefs and Practices That Influence Puerto Ricans' Health

Ecosystems Perspective

Intervention Strategies

CONCLUDING COMMENT

KEY WORDS AND CONCEPTS

SUGGESTED INFORMATION SOURCES

ENDNOTES
part six
Social Workers in Action
chapter 27 Social Workers in Action: School Homicide and the Death Penalty
PREFATORY COMMENT

Planning Social Work Interventions

Mobilizing the Agency and Staff for Action

Preparing to Serve the Families and School

Mobilizing Related Mental Health Disciplines

Addressing Community Needs: Indirect and Prevention Tasks

The Case Continues

The Psychosocial Evaluation

The Report Is Challenged by the People

The Death Penalty Trial for Rita Gomez

A Social Worker's Work Is Never Finished

CONCLUDING COMMENT

KEY WORDS AND CONCEPTS

SUGGESTED INFORMATION SOURCES

ENDNOTES
Photo Credits
Name Index
Subject Index
Additional Course Materials