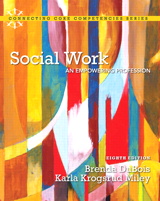 Description
Applies the empowerment perspective to the Social Work profession.
Social Work: An Empowering Profession, 8/e introduces the social work profession and interweaves contemporary themes of strength, human rights, and social justices. In addition, this title details the empowerment-oriented roles of the social worker as consultant, resource manager, and educator.
Connecting Core Competencies series -- Each chapter highlights the core competencies and practice behavior examples found in the Educational Policy and Accreditation Standards (EPAS) set by the Council on Social Work Education (CSWE). Critical thinking questions throughout reinforces these connections.
Learning Goals
Upon completing this book, readers will be able to:
Understand the Social Work Profession.
Apply principles of empowerment to various fields of social work practice.
Apply critical thinking skills to case scenarios presented throughout the text.
Analyze issues faced by clients using a human right and social frame.
Examine personal perspectives and biases.
Table of Contents
In this Section:
1. Brief Table of Contents
2. Full Table of Contents
---
BRIEF TABLE OF CONTENTS:
Part One: The Profession of Social Work
Chapter 1: Social Work: A Helping Profession
Chapter 2: An Evolving Profession
Chapter 3: Social Work and Social Systems
Chapter 4: The Social Service Delivery System
Part Two: Social Work Perspectives
Chapter 5: Values and Ethics in Social Work
Chapter 6: Human Rights and Social Justice
Chapter 7: Diversity and Social Work
Part Three: Generalist Social Work
Chapter 8: Empowerment Social Work Practice
Chapter 9: Social Work Functions and Roles
Chapter 10: Social Work and Social Policy
Part Four: Contemporary Issues in Fields of Practice
Chapter 11: Social Work and Poverty, Homelessness, Unemployment, and Criminal Justice
Chapter 12: Social Work in Health, Rehabilitation, and Mental Health
Chapter 13: Social Work with Families and Youths
Chapter 14: Adult and Aging Services
---

FULL TABLE OF CONTENTS:
Part One: The Profession of Social Work
Chapter 1: Social Work: A Helping Profession
Who Are Social Workers?
What Do Social Workers Do?
What Is the Purpose of Social Work?
How Are Social Work and Social Welfare Related?
How Is Social Work an Empowering Profession?
Looking Forward
Practice Test
Chapter 2: An Evolving Profession
The Emergence of Social Work as a Profession
Defining Social Work as a Profession
The Quest for Professional Status
The Common Base of Social Work Practice
Tenets for the Social Work Profession
Looking Forward
Practice Test
Chapter 3: Social Work and Social Systems
The Ecosystems Perspective
Social Functioning
Client Systems in Social Work
Social Work Methods
Looking Forward
Practice Test
Chapter 4: The Social Service Delivery System
Social Service Settings
The Funding of Services
Staffing Patterns
Self-Help Groups as Resources
Service Delivery Issues
Looking Forward
Practice Test
Part Two: Social Work Perspectives
Chapter 5: Values and Ethics in Social Work
Values and Ethics
The Foundation of Professional Social Work Values
The Value Context of Social Work
Social Work Codes of Ethics
Ethical Principles for Social Work
Ethical Preferences for Empowerment Social Work
Looking Forward
Practice Test
Chapter 6: Human Rights and Social Justice
Human Rights in Society
Social Justice
Social Injustice: The "Isms"
The Bases of Social Injustice
Effects of Social Injustice
Opportunities, Obstacles, and Empowerment
Social Work as a Human Rights and Social Justice Profession
Looking Forward
Practice Test
Chapter 7: Diversity and Social Work
Diversity and Social Work
Multicultural Social Work Practice
Racial and Ethnic Diversity
Sexual Diversity
Social Work with Diverse Populations
Looking Forward
Practice Test
Part Three: Generalist Social Work
Chapter 8: Empowerment Social Work Practice
The Empowerment Base of Social Work Practice
Engagement
Assessment
Implementation: Intervention and Evaluation
Looking Forward
Practice Test
Chapter 9: Social Work Functions and Roles
A Generalist Approach
Consultancy
Resource Management
Education
Looking Forward
Practice Test
Chapter 10: Social Work and Social Policy
Social Policy
Social Policy and Political Ideologies
Social Work and Social Policy
Street-Level Services
Public Welfare Policy in the Twentieth and Twenty-First Centuries
Current Public Welfare Programs
Looking Forward
Practice Test
Part Four: Contemporary Issues in Fields of Practice
Chapter 11: Social Work and Poverty, Homelessness, Unemployment, and Criminal Justice
Social Work and Poverty
Social Work and Homelessness
Social Work and Unemployment
Social Work in Criminal Justice
Concluding Remarks
Practice Test
Chapter 12: Social Work in Health, Rehabilitation, and Mental Health
Social Work in Health Systems
Social Work and Genetics
Social Work and AIDS
Social Work and Physical Disabilities
Social Work and Developmental Disabilities
Social Work and Mental Health
Social Work and Chemical Dependency
Concluding Remarks
Practice Test
Chapter 13: Social Work with Families and Youths
The Contemporary Family
Child Maltreatment
Child Welfare Services
Social Work in the Schools
Specialized Services for Adolescents
Concluding Remarks
Practice Test
Chapter 14: Adult and Aging Services
Services for Adults
Caregiving for Aging Parents and Life Partners
Intimate Partner Violence
Elder Abuse
Services for Older Adults
Concluding Remarks
Practice Test