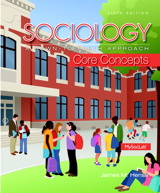 Description
A Down-to-Earth Approach
James Henslin shares the excitement of sociology in Sociology: A Down-to-Earth Approach, 6/e. With his acclaimed "down-to-earth" approach and personal writing style, the author highlights the sociology of everyday life and its relevance to students' lives. With wit, personal reflection, and illuminating examples, Henslin stimulates students' sociological imagination so they can better perceive how the pieces of society fit together. In addition to this trademark down-to-earth approach, other distinctive features include: comparative perspectives, the globalization of capitalism, and visual presentations of sociology.

MySocLab is an integral part of the Henslin learning program. Engaging activities and assessments provide a teaching a learning system that helps students see the world through a sociological lens. With MySocLab, students can develop critical thinking skills through writing, explore real-world data through the new Social Explorer, and watch the latest entries in the Core Concept Video Series.

This title is available in a variety of formats – digital and print. Pearson offers its titles on the devices students love through Pearson's MyLab products, CourseSmart, Amazon, and more. To learn more about pricing options and customization, click the Choices tab.
Table of Contents
PART I: THE SOCIOLOGICAL PERSPECTIVE
Chapter 1. The Sociological Perspective
Chapter 2. Culture
Chapter 3. Socialization
Chapter 4. Social Structure and Social Interaction
PART II: SOCAIL GROUPS AND SOCIAL CONTROL
Chapter 5. Societies to Social Networks
Chapter 6. Deviance and Social Control
PART III: SOCIAL INEQUALITY
Chapter 7. Social Stratification
Chapter 8. Sex and Gender
Chapter 9. Race and Ethnicity
PART IV: SOCIAL INSTITUTIONS
Chapter 10. Marriage and Family
Purchase Info ?
With CourseSmart eTextbooks and eResources, you save up to 60% off the price of new print textbooks, and can switch between studying online or offline to suit your needs.
Once you have purchased your eTextbooks and added them to your CourseSmart bookshelf, you can access them anytime, anywhere.
Buy Access
Sociology: Core Concepts, CourseSmart eTextbook, 6th Edition
Format: Safari Book
$47.99 | ISBN-13: 978-0-13-376408-6