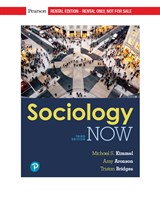 Description
For courses in Introductory Sociology

Bring the world into focus through the five lenses of iSoc
Sociology NOW offers students a fresh new way to make sense of the social world. Reinventing their text for the 3rd Edition, authors Michael Kimmel, Amy Aronson, and Tristan Bridges introduce a contemporary paradigm called the iSoc framework which empowers students to view the world through five sociological lenses: identity, inequality, interactions, institutions, and intersections. By viewing society through these distinct but interrelated lenses, students will be able to better understand the diverse collection of sociological research, theory, concepts, and ideas – and how they are relevant in today's world.
Digital
Sociology Now (Subscription), 3rd Edition
Add to Cart
$49.99 | ISBN-13: 978-0-13-462907-0
Purchase of this product will grant access to an eTextBook on VitalSource.com. After you have completed your purchase, instructions on how to redeem your access code will be available on your account page.