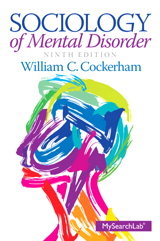 Description
The most recent literature and research on mental disorder from a sociological perspective.
The ninth edition of Sociology of Mental Disorder presents the major issues and research findings on the influence of race, social class, gender, and age on the incidence of mental disorder. The text also examines the institutions put in place to help those with mental disorders.
This text is available in a variety of formats — digital and print. Pearson offers its titles on the devices students love through Pearson's MyLab products, CourseSmart, Amazon, and more.
Learning Goals
Upon completing this book, readers will be able to:
Understand how race, social class, gender, age, influence mental disorder.
Explain how institutions help those with mental disorders.
0205960928 / 9780205960927 Sociology of Mental Disorder Plus MySearchLab with Pearson eText -- Access Card Package
Package consists of:
0205239927 / 9780205239924 MySearchLab with Pearson eText -- Valuepack Access Card
0205913873 / 9780205913879 Sociology of Mental Disorder
Table of Contents
BRIEF TABLE OF CONTENTS:
Chapter 1 The Problem of Mental Disorder
Chapter 2 Types of Mental Disorders
Chapter 3 Concepts of Causes and Cures
Chapter 4 Mental Disorder as Deviant Behavior
Chapter 5 Social Epidemiology
Chapter 6 Social Class
Chapter 7 Age, Gender, and Marital Status
Chapter 8 Urban versus Rural Living and Migration
Chapter 9 Race
Chapter 10 Help-Seeking Behavior and the Prepatient Experience
Chapter 11 Acting Mentally Disordered: The Example of Schizophrenia, Anxiety, and Depression
Chapter 12 The Mental Hospital Patient
Chapter 13 Residing in the Community
Chapter 14 Community Care and Public Policy
Chapter 15 Mental Disorder and the Law
Chapter 16 Mental Disorder and Public Policy in Selected Countries
Purchase Info
ISBN-10: 0-205-91387-3
ISBN-13: 978-0-205-91387-9
Format: Alternate Binding
This publication is not currently for sale.
Digital Choices ?
MyLab & Mastering with Pearson eText is a complete digital substitute for a print value pack at a lower price.
MyLab & Mastering ?
MyLab & Mastering products deliver customizable content and highly personalized study paths, responsive learning tools, and real-time evaluation and diagnostics. MyLab & Mastering products help move students toward the moment that matters most—the moment of true understanding and learning.