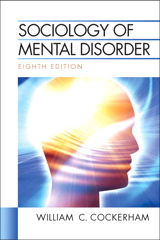 Description
For undergraduate courses in Mental Illness and Mental Health in departments of Sociology or Social Work.
This book presents the major issues and research findings on the influence of race, class, gender, age and social class on the incidence of mental disorder. It also examines the institutions put in place to help those with mental disorders.
Purchase Info ?
With CourseSmart eTextbooks and eResources, you save up to 60% off the price of new print textbooks, and can switch between studying online or offline to suit your needs.
Once you have purchased your eTextbooks and added them to your CourseSmart bookshelf, you can access them anytime, anywhere.
Buy Access
Sociology of Mental Disorder, CourseSmart eTextbook, 8th Edition
Format: Safari Book
$39.99 | ISBN-13: 978-0-205-72011-8