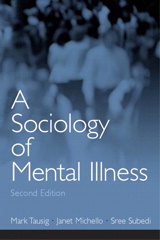 Description
For upper-level and graduate-level courses in Sociology of Mental Health, Medical Sociology, and Psychiatric Sociology taught in Sociology departments, as well as courses in Social Work, Psychology, and Nursing.
A Sociology of Mental Illness summarizes mental health research conducted by sociologists over the past 30 years. It is the only book on the market that provides a theoretically consistent narrative across topic areas; it uses the stress model to explain that mental illness/distress is related to social status and social roles. This theme is repeated from chapter to chapter, making it easier to assimilate the sociological approach.
Table of Contents
Preface.
1. Introduction: Social Causes and Consequences of Mental Illness.
I. SOCIAL CAUSES OF MENTAL ILLNESS.
2. The Stress Process and Mental Illness.
3. Social Status: Gender.
4. Social Status: Socioeconomic Status and Race/Ethnicity.
5. Social Status: Age.
6. Social Status: Community.
7. Social Roles: Spouse, Parent.
8. Social Roles: Worker.
9. The Intersection of Statuses and Roles.
II. SOCIAL REACTIONS TO MENTAL ILLNESS.
10. Labeling Deviant Behavior as Mental Illness.
11. The Relationship between Public Attitudes and Professional Labels.
12. The Medicalization of Deviant Behavior and Mental Illness.
13. The History of Societal Reactions to Mental Illness.
14. The Challenge of Community Mental Health.
15. The Contribution of Sociology.
Bibliography.
Index.
Purchase Info ?
With CourseSmart eTextbooks and eResources, you save up to 60% off the price of new print textbooks, and can switch between studying online or offline to suit your needs.
Once you have purchased your eTextbooks and added them to your CourseSmart bookshelf, you can access them anytime, anywhere.
Buy Access
Sociology of Mental Illness, CourseSmart eTextbook, A, 2nd Edition
Format: Safari Book
$41.99 | ISBN-13: 978-0-13-194940-9