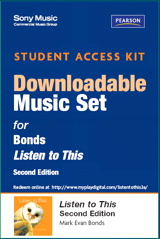 Description
This access card provides a pin code and instructions for downloading the music for this textbook to your computer and/or MP3 player.
(Please note- due to permissions, some of the tracks may be unavailable in this download format.)
This title is also sold in the various packages listed below. Before purchasing one of these packages, speak with your professor about which one will help you be successful in your course.
Purchase Info
ISBN-10: 0-205-21401-0
ISBN-13: 978-0-205-21401-3
Format: sms online
$66.80
You can purchase immediate access to this online product with a credit card.
Buy Access