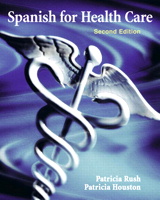 Description
Designed for beginning language students (no prior knowledge of Spanish is assumed), for whom success in the field is vitally important, Spanish for Health Care prepares students to use "real-life language" on the job—immediately. A focus on practical language learned in context makes Spanish accessible for the health professional.

Table of Contents
Para comenzar
Lección 1 - Una visita al médico
Lección 2 - El cuerpo humano
Lección 3 - Las dolencias
Lección 4 - Las enfermedades graves
Lección 5 - ¡Emergencia!
Lección 6 -
Repaso I
Lección 7 - La comida y la nutrición
Lección 8 - La maternidad y la pediatría
Lección 9 - Problemas de salud
Lección 10 - En el hospital
Lección 11 - ¿Adónde tengo que ir?
Lección 12 - Repaso II
Purchase Info ?
With CourseSmart eTextbooks and eResources, you save up to 60% off the price of new print textbooks, and can switch between studying online or offline to suit your needs.
Once you have purchased your eTextbooks and added them to your CourseSmart bookshelf, you can access them anytime, anywhere.
Buy Access
Spanish for Healthcare, CourseSmart eTextbook, 2nd Edition
Format: Safari Book
$51.99 | ISBN-13: 978-0-205-79588-8