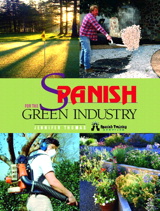 Table of Contents


1. Greetings.


2. Training, Praise, and Question Words.


3. The Calendar, Numbers, and Time.


4. Family and Work Personnel.


5. Rapport-Building Phrases.


6. Safety and Health Phrases and Terms.


7. Tools and Equipment Terms and Actions.


8. Grounds Maintenance Terms and Actions.


9. Materials and Containers.


10. Nursery Terms and Actions.


11. Commercial and Residential Sites.


12. Directions and Locations.


13. Water, Spraying, and Irrigation.


14. Golf Course and Fishing Terms and Actions.


English/Spanish Dictionary.


Spanish/English Dictionary.