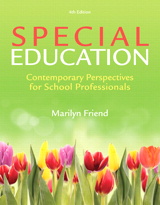 Description
Note: The Enhanced eText features are only available in the Pearson eText format. They are not available in third-party eTexts or downloads, such as CourseSmart.
For undergraduate and graduate courses in introduction to special education.
Real Teachers, Real Families and Students, Real Classrooms, Real Research.
Emphasizing contemporary concepts and evidence-based practices that prepare teachers for their evolving roles in the education and well-being of students with disabilities, Marilyn Friend combines current research with practical information for educators working in this challenging age of high standards and accountability. With an emphasis on curriculum access, inclusive practices, professional collaboration, and student diversity, the third edition integrates the requirements of NCLB and IDEA legislation with evidence-based practices so that readers understand the expectations for educators and students, and learn how critical concepts translate into educational practices.