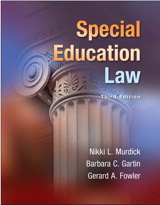 Description
With IDEA 2004 and its accompanying regulations as its foundation, Special Education Law, provides the most up-to-date and accurate information on the laws affecting the field of special education today. In a highly readable format, this comprehensive book enables readers to examine current legislation from a historical perspective and to understand the evolving nature of special education legislation and how it is interpreted by case law. In the revision, readers will find these welcome additions: A new chapter on "Discipline Concerns"; An expanded chapter on program development covering IFSPs, the extended school year, and IEPs; Discussion of the legal requirements under NCLB and how this law intersects with the requirements of IDEA 2004; More content tied directly to the standards and competencies designated by CEC, INTASC, and PRAXIS; More pedagogical elements such as reflection questions, additional case briefs, and relevant websites for further exploration.Although the authors chose to expand the original content, they retained many of the features that made it an excellent choice for students of special education law.
Table of Contents
PART I: THE BASES FOR SPECIAL EDUCATION
1. Historical Overview of Special Education
2. A New Foundation for Special Education Services
PART II: SIX BASIC PRINCIPLES OF SPECIAL EDUCATION LEGISLATION
3. Free Appropriate Public Education
4. Nondiscriminatory Evaluation
5. Program Development
6. Least Restrictive Environment
7. Procedural Due Process
8. Parental Participation
REMEDIES
9. Enforcement of Special Education Law
10. Discipline Issues
11. Mediation and Impartial Due Process Hearing
12. Ethics and the Special Education Professional
13. Future Issues in Special Education
APPENDIX A: THE AMERICAN LEGAL SYSTEM
APPENDIX B: READING RESEARCHING CASE LAW
APPENDIX C: GLOSSARY OF LEGAL TERMS
APPENDIX D: CASE LIST
Purchase Info ?
With CourseSmart eTextbooks and eResources, you save up to 60% off the price of new print textbooks, and can switch between studying online or offline to suit your needs.
Once you have purchased your eTextbooks and added them to your CourseSmart bookshelf, you can access them anytime, anywhere.
Buy Access
Special Education Law, CourseSmart eTextbook, 3rd Edition
Format: Safari Book
$40.99 | ISBN-13: 978-0-13-312338-8