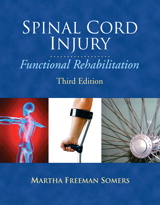 Description
Spinal Cord Injury: Functional Rehabilitation was written to provide such a comprehensive treatment of the subject. The reader will gain a broad knowledge base relevant to spinal cord injuries and will develop an understanding of both the physical skills required for functional activities and the therapeutic strategies for achieving these skills. As importantly, the reader will gain an appreciation for the importance of psychosocial adaptation after spinal cord injury and will develop some insight into the impact that rehabilitation professionals can have in this area.
Table of Contents
>
Chapter 1
INTRODUCTION
Chapter 2
SPINAL CORD INJURies
Chapter 3
MEDICAL AND SURGICAL MANAGEMENT
Chapter 4
PSYCHOSOCIAL ISSUES
Chapter 5
SKIN CARE
Chapter 6
RESPIRATORY MANAGEMENT
Chapter 7
PHYSICAL THERAPY examination, EVALUATION AND GOAL-SETTING
Chapter 8
STRATEGIES FOR FUNCTIONAL REHABILITATION
Chapter 9
FUNCTIONAL MAT SKILLS
Chapter 10
TRANSFER SKILLS
Chapter 11
WHEELCHAIRS AND WHEELCHAIR SKILLS
Chapter 12
AMBULATION
Chapter 13
SEXUALITY AND SEXUAL FUNCTIONING
CHAPTER 14
BLADDER AND BOWEL MANAGEMENT
CHAPTER 15
ARCHITECTURAL ADAPTATIONS
APPENDIX
SOLUTIONS TO PROBLEM-SOLVING EXERCISES
Purchase Info ?
With CourseSmart eTextbooks and eResources, you save up to 60% off the price of new print textbooks, and can switch between studying online or offline to suit your needs.
Once you have purchased your eTextbooks and added them to your CourseSmart bookshelf, you can access them anytime, anywhere.
Buy Access
Spinal Cord Injury, CourseSmart eTextbook, 3rd Edition
Format: Safari Book
$45.99 | ISBN-13: 978-0-13-510104-9