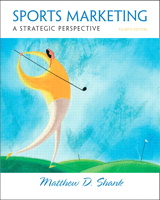 Description
For courses in Sports Marketing.
Shank provides a framework or conceptual model of the strategic marketing process that can be applied to the sports industry.
Table of Contents
Brief Contents
Preface
PART I: Contingency Framework For Strategic Sports Marketing
Chapter 1 Emergence of Sports Marketing
Chapter 2 Contingency Framework for Strategic Sports Marketing
PART II: Planning For Market Selection Decisions
Chapter 3 Research Tools for Understanding Sports Consumers
Chapter 4 Understanding Participants as Consumers
Chapter 5 Understanding Spectators as Consumers
Chapter 6 Segmentation, Targeting, and Positioning
PART III: Planning The Sports Marketing Mix
Chapter 7 Sports Product Concepts
Chapter 8 Managing Sports Products
Chapter 9 Promotion Concepts
Chapter 10 Promotion Mix Elements
Chapter 11 Sponsorship Programs
Chapter 12 Pricing Concepts and Strategies
PART IV: Implementing And Controlling The Strategic Sports Marketing Process
Chapter 13 Implementing and Controlling the Strategic Sports Marketing Process
Appendix A:Career Opportunities in Sports Marketing
Appendix B:Sports Marketing Sites of Interest on the Internet
Glossary
Photo Credits
Index
Purchase Info ?
With CourseSmart eTextbooks and eResources, you save up to 60% off the price of new print textbooks, and can switch between studying online or offline to suit your needs.
Once you have purchased your eTextbooks and added them to your CourseSmart bookshelf, you can access them anytime, anywhere.
Buy Access
Sports Marketing: A Strategic Perspective, CourseSmart eTextbook, 4th Edition
Format: Safari Book
$87.99 | ISBN-13: 978-0-13-228538-4