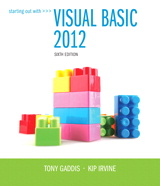 Description
In Starting Out with Visual Basic 2012, Tony Gaddis and Kip Irvine take a step-by-step approach, helping readers understand the logic behind developing quality programs while introducing the Visual Basic language. Fully-updated throughout, the 2012 edition also includes an extensive set of VideoNotes, including walk-throughs of many of the in-chapter tutorials. Each new student edition comes with a Visual Basic 2012 Express software package.
Note: This is the standalone book, if you want the book/access card order the ISBN below: An instructor ID is required to access MyProgramming Lab.
0133441873 / 9780133441871 Starting Out with Visual Basic 2012& MyProgrammingLab with Pearson eText -- Access Code Card -- for Starting Out With Visual Basic PackageK *
Package consists of:
0133128083 / 9780133128086 Starting Out With Visual Basic 2012
0133452344 / 9780133452341 MyProgrammingLab with Pearson eText -- Access Code Card -- for Starting Out With Visual Basic
Table of Contents
Chapter 1 Introduction to Programming and Visual Basic
Chapter 2 Creating Applications with Visual Basic
Chapter 3 Variables and Calculations
Chapter 4 Making Decisions
Chapter 5 Lists and Loops
Chapter 6 Procedures and Functions
Chapter 7 Multiple Forms, Modules, and Menus
Chapter 8 Arrays and More
Chapter 9 Files, Printing, and Structures
Chapter 10 Working with Databases
Chapter 11 Developing Web Applications
Chapter 12 Classes, Collections, and Inheritance
Appendix A Advanced User Interface Controls and Techniques
Appendix B Windows Presentation Foundation (WPF)
Appendix C Converting Mathematical Expressions to Programming Statements
Appendix D Answers to Checkpoints
Appendix E Glossary

Purchase Info
Digital Choices ?
MyLab & Mastering with Pearson eText is a complete digital substitute for a print value pack at a lower price.
MyLab & Mastering ?
MyLab & Mastering products deliver customizable content and highly personalized study paths, responsive learning tools, and real-time evaluation and diagnostics. MyLab & Mastering products help move students toward the moment that matters most—the moment of true understanding and learning.
+ Other Options
eTextbook ?
With CourseSmart eTextbooks and eResources, you save up to 60% off the price of new print textbooks, and can switch between studying online or offline to suit your needs.
Once you have purchased your eTextbooks and added them to your CourseSmart bookshelf, you can access them anytime, anywhere.
Print Choices
Loose Leaf Version ?
Books a la Carte are less-expensive, loose-leaf versions of the same textbook.