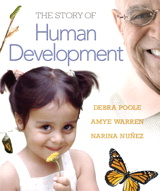 Description
For undergraduate courses in Lifespan Development
The Story of Human Development creates an engaging and original framework by integrating material on the typical individual's physical, cognitive, emotional, and social developments with how they might develop in different environmental contexts.
Faced with the challenge of authoring a text that could be current, scholarly, and comprehensive while also being readable and practical, authors Debra Poole, Amye Warren, and Narina Nuñez created The Story of Human Development 1.e, a far departure from the ordinary human development text. By organizing the text with each age bracket represented by a two-chapter pair, the authors are able to examine all aspects of the development process. With a narrative infused with the rich and diverse stories of people's lives, compelling arrangement, unique connecting summaries, and a focus on guiding developmental principles, this text puts the science of human development into a framework that better explains and explores how a whole person develops within varying environmental contexts.
Table of Contents
1. Introduction to Human Development
2. Heredity and Environment
3. Prenatal Development and Birth
4. Profile of the First Three Years
5. Pathways Through the First three Years
6. Profile of Early Childhood
7. Pathways through Early Childhood
8. Profile of Middle and Late Childhood
9. Pathways through Middle and late Childhood
10. Profile of Adolescence
11. Pathways through Adolescence
12. Profile of Early to Middle Adulthood
13. Pathways through Early to Middle Adulthood
14. Profile of Middle to Late Adulthood
15. Pathways through Middle to Late Adulthood
Epilogue: The End of Life
Purchase Info ?
With CourseSmart eTextbooks and eResources, you save up to 60% off the price of new print textbooks, and can switch between studying online or offline to suit your needs.
Once you have purchased your eTextbooks and added them to your CourseSmart bookshelf, you can access them anytime, anywhere.
Buy Access
Story of Human Development, The, CourseSmart eTextbook
Format: Safari Book
$89.99 | ISBN-13: 978-0-13-223960-8