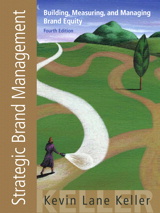 Description
For students, managers and senior executives studying Brand Management.
Keller provides insights into how to create profitable brand strategies by building, measuring, and managing brand equity.
Table of Contents
Part I: Opening Perspectives
Chapter 1 Brands and Brand Management
Part II: Identifying and Establishing Brand Positioning and Values
Chapter 2 Customer-Based Brand Equity

Chapter 3 Brand Positioning

Part III: Planning and Implementing Brand Marketing Programs
Chapter 4 Choosing Brand Elements to Build Brand Equity

Chapter 5 Designing Marketing Programs to Build Brand Equity

Chapter 6 Integrating Marketing Communications to Build Brand Equity

Chapter 7 Leveraging Secondary Brand Associations to Build Brand Equity

Part IV: Measuring and Interpreting Brand Performance
Chapter 8 Developing a Brand Equity Measurement and Management System

Chapter 9 Measuring Sources of Brand Equity: Capturing Customer Mind-Set

Chapter 10 Measuring Outcomes of Brand Equity: Capturing Market Performance

Part V: Growing and Sustaining Brand Equity
Chapter 11 Designing and Implementing Branding Strategies

Chapter 12 Introducing and Naming New Products and Brand Extensions

Chapter 13 Managing Brands over Time

Chapter 14 Managing Brands over Geographic Boundaries and Market Segments

Part VI: Closing Perspectives
Chapter 15 Closing Observations
Purchase Info ?
With CourseSmart eTextbooks and eResources, you save up to 60% off the price of new print textbooks, and can switch between studying online or offline to suit your needs.
Once you have purchased your eTextbooks and added them to your CourseSmart bookshelf, you can access them anytime, anywhere.
Buy Access
Strategic Brand Management, CourseSmart eTextbook, 4th Edition
Format: Safari Book
$109.99 | ISBN-13: 978-0-13-266428-8