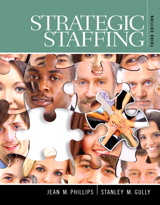 Description
Where the strategy of staffing and business align.
Strategic Staffing prepares all current and future managers to take a strategic and modern approach to the identification, attraction, selection, deployment, and retention of talent. Grounded in research but full of real-world examples, this text describes how organizations can develop a staffing strategy that reinforces business strategy, leverages staffing technology, and evaluates and improves staffing systems.


This edition includes new and relevant topics on staffing that readers will be able to immediately apply in their future careers.
Table of Contents
1. Strategic Staffing
2. Business and Staffing Strategies
3. The Legal Context
4. Strategic Job Analysis and Competency Modeling
5. Forecasting and Planning
6. Sourcing: Identifying Recruits
7. Recruiting
8. Measurement
9. Assessing External Candidates
10. Assessing Internal Candidates
11. Choosing and Hiring Candidates
12. Managing Workforce Flow
13. Staffing System Evaluation and Technology
These online resources are available at no cost.
Companion Website for Strategic Staffing, 3rd Edition