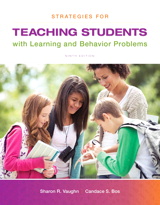 Description
Note: The Enhanced eText features are only available in the Pearson eText format. They are not available in third-party eTexts or downloads, such as CourseSmart.
For courses in Mid/Moderate Disabilities Methods (Special Education); Methods for Students with Learning and Behavior Problems (Special Education)
This bestselling text focuses on presenting the ideal content for preparing teachers to meet the needs of elementary and secondary students with learning and behavior problems in a variety of settings. Streamlined in the previous edition to provide more hands on applications and classroom strategies than any other methods text on the market, this new Ninth Edition features a new emphasis on and integration of the Common Core State Standards (CCSS) throughout; updated coverage of RtI; a new emphasis on higher level thinking, including reading comprehension and complex texts as well as problem solving, fractions, and algebra; increased focus on classroom management and positive behavior support; and updated and enhanced key research, practice opportunities, and strategies throughout.
Table of Contents
Part I Understanding and Planning Instruction for Students with Learning and Behavior Problems
Chapter 1 Monitoring and Teaching for Understanding
Chapter 2 Approaches to Learning and Teaching
Chapter 3 Response to Intervention and Multi-Tier System of Supports
Chapter 4 Managing Behavior
Chapter 5 Coteaching and Collaborating: Working with Professionals and Families
Part II Instructing Students with Learning and Behavior Problems
Chapter 6 Assessing and Teaching Oral Language
Chapter 7 Assessing and Teaching Reading: Phonological Awareness, Phonics, and Word Recognition
Chapter 8 Assessing and Teaching Reading: Fluency and Comprehension
Chapter 9 Assessing and Teaching Writing and Spelling
Chapter 10 Assessing and Teaching Content Area Learning and Vocabulary
Chapter 11 Assessing and Teaching Mathematics