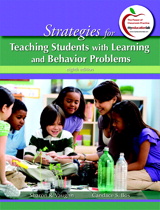 Description
The streamlined eighth edition of the bestselling text Strategies for Teaching Students with Learning and Behavior Problems provides more hands on application and classroom strategies than any other methods text on the market.
A practical guide for graduate and undergraduate students, this book uses current research on the best practices for providing instructional and support services to students with learning and behavior problems in a variety of settings. The eighth edition contains more applied teaching strategies than ever before, a thorougly revised chapter on teaching and assessing math, and an increased integration and emphasis on the topics of co-teaching and working with paraprofessionals, response to intervention and assessment, and technology.
Table of Contents
Part 1: Understanding and Planning Instruction for Students with Learning and Behavior Problems
1. Planning and Teaching for Understanding
2. Approaches to Learning and Teaching
3. Response to Intervention
4. Promoting Social Acceptance and Managing Behavior
5. Communicating, Collaborating, and CoTeaching
Part 2: Instructing Students with Learning and Behavior Problems
6. Assessing and Teaching Oral Language
7. Assessing and Teachign Reading: Phonological Awareness, Phonics, and Word Recognition
8. Assessing and Teaching Reading: Fluency and Comprehension
9. Assessing and Teaching Writing and Spelling
10. Assessing and Teaching Content Area Learning and Vocabulary Instruciton
11. Aassessing and Teaching Mathematics
Purchase Info
ISBN-10: 0-13-703467-9
ISBN-13: 978-0-13-703467-3
Format: Alternate Binding
Digital Choices ?
MyLab & Mastering with Pearson eText is a complete digital substitute for a print value pack at a lower price.
eTextbook ?
With CourseSmart eTextbooks and eResources, you save up to 60% off the price of new print textbooks, and can switch between studying online or offline to suit your needs.
Once you have purchased your eTextbooks and added them to your CourseSmart bookshelf, you can access them anytime, anywhere.