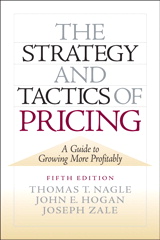 Description
For undergraduate introduction to Market Pricing courses.

A comprehensive and practical, step-by-step guide to pricing analysis and strategy development.

The Strategy and Tactics of Pricing shows readers how to manage markets strategically—rather than simply calculate pricing based on product and profit—in order to improve their competitiveness and the profitability of their offers.

The fifth edition contains a new chapter on price implementation and several updated examples on pricing challenges in today's markets.


Table of Contents
Chapter 1: Strategic Pricing
Chapter 2: Value Creation
Chapter 3: Price Structure
Chapter 4: Price and Value Communication
Chapter 5: Pricing Policy
Chapter 6: Price Level
Chapter 7: Pricing Over the Product Life Cycle
Chapter 8: Pricing Strategy Implementation
Chapter 9: Costs
Chapter 10: Financial Analysis
Chapter 11: Competition
Chapter 12: Measurement of Price Sensitivity
Chapter 13: Ethics and the Law


Purchase Info ?
With CourseSmart eTextbooks and eResources, you save up to 60% off the price of new print textbooks, and can switch between studying online or offline to suit your needs.
Once you have purchased your eTextbooks and added them to your CourseSmart bookshelf, you can access them anytime, anywhere.
Buy Access
Strategy and Tactics of Pricing, The, CourseSmart eTextbook, 5th Edition
Format: Safari Book
$51.99 | ISBN-13: 978-0-13-610683-8