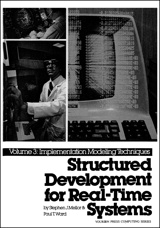 Description
In the first two volumes of Structured Development for Real Time Systems, authors Paul Ward and Stephen Mellor described a comprehensive modeling notation and a set of guidelines for using the notation to build an essential model. In this final volume, the guidelines are extended to encompass the building of an implementation model, and the notation is extended to include a hierarchical description of code organization.
Purchase Info
ISBN-10: 0-13-608295-5
ISBN-13: 978-0-13-608295-8
Format: Safari PTG
This publication is not currently for sale.