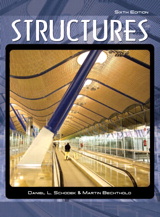 Description
For courses in Structures or Structural Analysis and Design.
With a focus on how structures really work, this book offers single-volume coverage of all major topics in structural analysis and design. Discussing concepts from both an engineering and architectural perspective, it explores structural behavior, structural analysis and design within a building context. This edition features a new co-author, new graphic format and expanded coverage in the areas of computer-aided analysis techniques, design of multi-story buildings, shell structures and cable supported beams. Reinforcing the real-world perspective of the text, each book contains Multiframe structural analysis software to engage students in sophisticated analysis and design activities.
Table of Contents
PART I: INTRODUCTORY CONCEPTS
1. Structures: An Overview
2. Principles of Mechanics
3. Introduction to Structural Analysis and Design
PART II: ANALYSIS AND DESIGN OF STRUCTURAL ELEMENTS
4. Trusses
5. Funicular Structures: Cables and Arches
6. Beams
7. Members in Compression: Columns
8. Continuous Structures: Beams
9. Continuous Structures: Rigid Frames
10. Plate and Grid Structures
11. Membrane and Net Structures
12. Shell Structures
PART III: PRINCIPLES OF STRUCTURAL DESIGN
13. Structural Grids and Patterns: General Planning and Design
14. Structural Systems: Design for Lateral Loadings
15. Structural Systems: Constructional Approaches
16. Structural Connections
APPENDICES
1. Conversions
2. Nonconcurrent Force Systems
3. Moments of Distributed Loads
4. Centroids
5. Moments of Inertia
6. Bending Stresses in Beams
7. Shearing Stresses in Beams
8. Moment-Curvature Relations
9. Deflections
10. Moment-Area Theorems: Slopes and Deflections
11. Other Methods of Analyzing Indeterminate Structures
12. Reinforced-Concrete Beams: Detailed U.S. Design Procedures
13. Critical Buckling Loads for Compression Members
14. Computer-Based Methods of Analysis: Force and Matrix-Displacement Techniques
15. Computer-Based Methods of Analysis: Finite-Element Techniques
16. Properties
17. Typical Material Properties
Purchase Info ?
With CourseSmart eTextbooks and eResources, you save up to 60% off the price of new print textbooks, and can switch between studying online or offline to suit your needs.
Once you have purchased your eTextbooks and added them to your CourseSmart bookshelf, you can access them anytime, anywhere.
Buy Access
Structures, CourseSmart eTextbook, 6th Edition
Format: Safari Book
$78.99 | ISBN-13: 978-0-13-501770-8