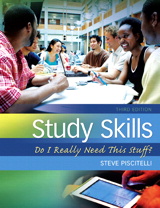 Description
For Study Skills courses.
TECHNOLOGY OFFERING: MyStudentSuccessLab is available with this book upon request. It is an online solution designed to help students 'Start strong, Finish stronger' by building skills for ongoing personal and professional development. Go to http://mystudentsuccesslab.com/mssl3 for a Point and Click DEMO of the Time Management module.
Table of Contents
Table of Contents:
INTRODUCTION: TODAY IS THE TOMORROW YOU CREATED YESTERDAY
CHAPTER 1: DO I REALLY NEED THIS STUFF
CHAPTER 2: CRITICAL THINKING
CHAPTER 3: PRIORITY MANAGEMENT
CHAPTER 4: INFORMATION LITERACY
CHAPTER 5: MOTIVATION AND GOAL SETTING
CHAPTER 6: LEARNING STYLES
CHAPTER 7: CLASS TIME LISTENING AND NOTE-TAKING
CHAPTER 8: REVIEWING AND USING YOUR NOTES OUTSIDE OF THE CLASSROOM
CHAPTER 9: READING
CHAPTER 10: MEMORY
CHAPTER 11: TEST PREPARATION AND TEST PERFORMANCE
CHAPTER 12: CIVILITY
CHAPTER 13: THE CHOICES YOU MAKE
References
Index
Purchase Info ?
With CourseSmart eTextbooks and eResources, you save up to 60% off the price of new print textbooks, and can switch between studying online or offline to suit your needs.
Once you have purchased your eTextbooks and added them to your CourseSmart bookshelf, you can access them anytime, anywhere.
Buy Access
Study Skills: Do I Really Need This Stuff?, CourseSmart eTextbook, 3rd Edition
Format: Safari Book
$26.99 | ISBN-13: 978-0-13-279031-4