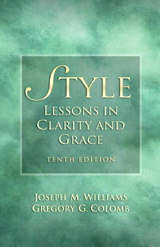 Description
Engaging and direct, Style: Lessons in Clarity and Grace is the guidebook for anyone who wants to write well.
Williams' own clear, accessible style models the kind of writing that audiences–both in college and after–will admire. The principles offered here help writers understand what readers expect and encourage writers to revise to meet those expectations more effectively. This book is all you need to understand the principles of effective writing.
Table of Contents
PART ONE: Style as Choice
Lesson One: Understanding Style
Lesson Two: Correctness
PART TWO: Clarity
Lesson Three: Actions
Lesson Four: Characters
Lesson Five: Cohesion and Coherence
Lesson Six: Emphasis
PART THREE: Grace
Lesson Seven: Concision
Lesson Eight: Shape
Lesson Nine: Elegance
PART FOUR: Form
Lesson Ten: Motivating Coherence
Lesson Eleven: Global Coherence
PART FIVE: Ethics
Lesson Twelve: The Ethics of Style
Appendix I: Punctuation
Appendix II: Using Sources
Glossary
Suggested Answers
Purchase Info ?
With CourseSmart eTextbooks and eResources, you save up to 60% off the price of new print textbooks, and can switch between studying online or offline to suit your needs.
Once you have purchased your eTextbooks and added them to your CourseSmart bookshelf, you can access them anytime, anywhere.
Buy Access
Style: Lessons in Clarity and Grace, CourseSmart eTextbook, 10th Edition
Format: Safari Book
$14.99 | ISBN-13: 978-0-205-71752-1