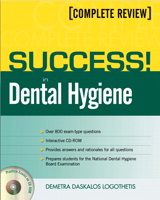 Description
Part of PearsonHealth Science SUCCESS! Series, this review book provides comprehensive, information on all the unique needs of a Dental Hygienist . Organized by key content areas, it combines authoritative information in an outline format with an exam-style question and answer review for the best preparation. A CD-ROM is also included and offers additional exam practice. This book will help all users achieve SUCCESS! on their exam and on the job.
ABOUT THE SERIES
The SUCCESS! exam preparation system is a tremendous method for improving pass rates in many health professions from Dental Hygiene to Nursing. We invite you to use our exam preparation system and ACHIEVE SUCCESS!
Table of Contents
Section I. Scientific Basis for Dental Hygiene Practice
Chapter 1 — Anatomic Sciences
Ø Head and neck anatomy
Ø Dental Anatomy
Ø Histology and Embryology
Chapter 2 — Physiology
Ø Introduction
Ø Muscular system
Ø Nervous System
Ø Endocrine system
Ø circulatory system
Ø Blood
Ø Respiratory system
Ø Lymphatic system
Ø Digestive system
Ø Urinary system
Ø Reproductive system
Chapter 3 — Biochemistry and Nutrition
Ø Nutrients
Ø Micronutrients (trace minerals)
Ø Macrominerals
Ø Microminerals (trace minerals)
Ø Nutrition in Oral Health
Ø Nutrition Screening
Ø Assessment of Nutritional Status
Ø Nutrition Assessment and Counseling
Ø Nutrition Considerations in the Life Cycle
Ø Oral conditions affecting nutrient intake
Chapter 4 — Microbiology and Immunology
Ø Microorganisms
Ø Growth and Cultivation of Microorganisms
Ø Disease Transmission
Ø Infectious diseases specific to the dental health provider
Ø Infections of the gastrointestinal tract
Ø Other important diseases
Ø Microorganisms of the oral cavity
Chapter 5 — Pathology
Ø Terminology and Definitions
Ø Anomalies of the oral cavity
Ø Cysts
Ø Benign Neoplasma
Ø Galavary gland pathology
Ø Infectious diseases
Ø Vesiculerosive diseases
Ø Blood dyscrasias
Ø Endocrine disorders
Ø Oral cancer
Ø Syndromes
Chapter 6 — Pharmacology
Ø Drug action and termination
Ø Adverse reactions
Ø Drug interactions
Ø Drugs used in dentistry
Ø Drugs that may affect patient treatment
Section II. Provision of Clinical Dental Hygiene Services
Chapter 7 — Assessing Patient Characteristics
Ø Medical and dental history
Ø Head and neck examination
Ø Periodontal evaluation
Ø Oral evaluation
Chapter 8 — Obtaining and interpreting Radiographs
Ø Radiation physics
Ø Production of radiation
Ø Image receptors
Ø Exposure factors
Ø Intraoral radiographic techniques
Ø Radiation biology and safety
Ø Radiographic infection control
Ø Darkroom processing and quality assurance
Ø Intraoral technical and processing error indentification and correction
Ø Panoramic radiography and error correction
Ø Localization techniques
Ø Radiographic anatomy
Ø Film mounting and duplication
Ø Interpretation
Chapter 9 — Planning/Managing Dental Hygiene Care
Ø Infection control (application)
Ø Recognition of emergency situations and provision of appropriate care
Ø Individualized patient education
Ø Anxiety and Pain Control
Ø Recognition and management of compromised patient
Chapter 10 - Performing periodontal procedures
Chapter 11 - Using Preventive Agents
Chapter 12 - Providing Supportive Treatment Services
Chapter 13 - Professional Responsibility
Section III — Community Health/Research Principles
Chapter 14 — Promoting Health and Preventing Disease within Groups
Chapter 15 — Participating in community Programs
Chapter 16 — Analyzing Scientific Literature, Understanding Statistical concepts, and Applying Research Results
Purchase Info ?
With CourseSmart eTextbooks and eResources, you save up to 60% off the price of new print textbooks, and can switch between studying online or offline to suit your needs.
Once you have purchased your eTextbooks and added them to your CourseSmart bookshelf, you can access them anytime, anywhere.
Buy Access
SUCCESS in Dental Hygiene, CourseSmart eTextbook
Format: Safari Book
$32.60 | ISBN-13: 978-0-13-501595-7