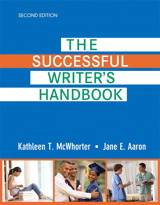 Description
ALERT: Before you purchase, check with your instructor or review your course syllabus to ensure that you select the correct ISBN. Several versions of Pearson's MyLab & Mastering products exist for each title, including customized versions for individual schools, and registrations are not transferable. In addition, you may need a CourseID, provided by your instructor, to register for and use Pearson's MyLab & Mastering products.
Packages
Access codes for Pearson's MyLab & Mastering products may not be included when purchasing or renting from companies other than Pearson; check with the seller before completing your purchase.
Used or rental books
If you rent or purchase a used book with an access code, the access code may have been redeemed previously and you may have to purchase a new access code.
Access codes
Access codes that are purchased from sellers other than Pearson carry a higher risk of being either the wrong ISBN or a previously redeemed code. Check with the seller prior to purchase.
--
Whether you're just starting to adjust to college demands, or simply struggling with your writing assignments, The Successful Writer's Handbook by Kathleen McWhorter and Jane E. Aaron, is the perfect coach to give you practical guidance on making the most of your college experience by learning to write successfully. Straightforward, this handbook will give you the guidance you need on approaching studying, managing your time, composing excellent writing assignments, and getting the most out of college life. It's the indispensable writing tool for mastering grammar and style, drafting and revising top-notch papers, and doing college-level research, all of which will help you achieve better grades and reach the success you seek in college.
Table of Contents
PART 1 - STRATEGIES FOR COLLEGE SUCCESS
1. Academic Success In and Out of the Classroom
2. Success in Your Writing Class
3. Reading & Critical Thinking Skills
4. Preparing for and Taking Exams
PART 2 – THE WRITING PROCESS
5. The Writing Situation
6. Generating Ideas
7. Thesis and Organization
8. Drafting
9. Revising and Editing
10. Paragraphs.
PART 3 – ACADEMIC WRITING
11. Writing for College
12. Reading and Writing Argument
13. Reading and Writing About Literature
PART 4 – WRITING FOR WORK AND CAREER
14. Document design
15. Online Writing
16. Oral Presentations
17. Business and Career Writing
PART 5 - GRAMMATICAL SENTENCES
18. Parts of Speech
19. The Sentence
20. Phrases and Subordinate Clauses
21. Sentence Types
Verbs
22. Forms
23. Tenses
24. Moods
25. Voice
26. Subject-Verb Agreement
Pronouns
27. Forms
28. Pronoun-Antecedent Agreement
29. Reference
Modifiers
30. Adjectives and Adverbs
31. Misplaced and Dangling Modifiers
Sentence errors
32. Sentence Fragments
33. Comma Splices and Fused Sentences
34. Mixed Sentences
PART 6 – CLARITY AND STYLE
35. Emphasis
36. Parallelism
37. Variety and Details
38. Appropriate Words
39. Exact Words
40. Conciseness
PART 7 – PUNCTUATION
41. End Punctuation
42. Comma
43. Semicolon
44. Colon
45. Apostrophe
46. Quotation Marks
47. Other Marks
PART 8 - SPELLING AND MECHANICS
48. Spelling and the Hyphen
49. Capital Letters
50. Italics or Underlining
51. Abbreviations
52. Numbers
PART 9 - RESEARCH WRITING
53. Research Strategy
54. Finding Sources
55. Working with Sources
56. Avoiding Plagiarism and Documenting Sources
57. Writing the Paper
PART 10 - MLA DOCUMENTATION
PART 11 - APA DOCUMENTATION
PART 12 - GLOSSARIES AND INDEX