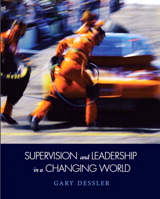 Description
Offering a new approach to supervision, SUPERVISION AND LEADERSHIP IN A CHANGING WORLD moves beyond just order-giving strategies to address leadership techniques that work with today's workers and teams. Throughout the book, readers learn how to supervise a diverse workforce that is often set in dispersed, self-managing teams. The link between supervision and leadership is explored as well as common supervisory tasks such as planning and setting goals; organizing jobs and work; interviewing and screening employees; and appraising and managing performance.
Table of Contents
PART I: UNDERSTANDING SUPERVISION AND LEADERSHIP IN A CHANGING WORLD
1. The Supervisor's Role in a Changing World
2. Leading a Diverse Workforce
PART II: SETTING UP THE WORK
3. Solving Problems and Making Decisions
4. Planning and Setting Goals
5. Understanding Budgets and How to Control Work Processes
6. Organizing Jobs and Work
PART IV: GETTING EMPLOYEES STARTED
7. The Supervisor and Equal Employment
8. Interviewing and Screening Employees
9. Orienting and Training Employees
PART V: LEADING AND MOTIVATING EMPLOYEES
10. Using Motivation and Incentives
11. Leading the Team Effort
12. Coaching and Communicating at Work
PART VI: APPRAISING AND SUPERVISING EMPLOYEES
13. Appraising and Managing Performance
14. Supervising Discipline, Ethics, and Fair Treatment at Work
15. Handling Grievances and Labor Relations
16. Supervising Health and Safety at Work
Purchase Info
Digital Choices
MyLab & Mastering ?
MyLab & Mastering products deliver customizable content and highly personalized study paths, responsive learning tools, and real-time evaluation and diagnostics. MyLab & Mastering products help move students toward the moment that matters most—the moment of true understanding and learning.