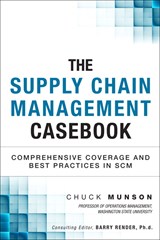 Description
While several supply chain management texts contain a small group of case studies, there has been no single reference solely devoted to a set of supply chain management cases for professors and their students. This contributed casebook fills the gap, offering faculty and students an extensive set of concise and focused cases covering a broad range of modern SCM practices. Drawing on his extensive network of practitioners, Chuck Munson presents more than 20 cases, each with more content, data, and background than cases typically presented in textbooks. Munson's cases address every functional aspect of supply chain management, including:
Procurement
Supply chain design
Warehousing and logistics
Transportation
Supplier management
Distribution management
Supply chain strategy
Inventory control
Information technology
Pricing
Forecasting
Demand management
Supply chain risk
Supply chain coordination
This text's qualitative cases are supported by relevant discussion questions and sample responses; its quantitative cases are supported by completed numerical solutions, and, where applicable, associated spreadsheets.
Table of Contents
Preface xiii
Chapter 1 Comprehensive Coverage of Supply Chain Issues 1
Case 1 The Salvation Army in Dallas: The Supply Chain Challenges of a Non-Profit Organization 3
Arunachalam Narayanan, University of Houston
Case 2 Perdue Farms: A Vertically Integrated Supply Chain 25
Ling Li, Old Dominion University
Chapter 2 Supply Chain Risk Management 37
Case 3 Improving Stanford Blood Center's Platelet Supply Chain 39
Yenho Thomas Chung, LG CNS Entrue Consulting Partners
Feryal Erhun, Stanford University
Tim Kraft, University of Virginia
Case 4 Financial and Operational Risk Management at Molson Coors 50
Dennis Kira, Concordia University
Ahmet Satir, Concordia University
Dia Bandaly, Concordia University
Case 5 Toyota China: Matching Supply with Demand 68
Xiaoying Liang, City University of Hong Kong
Lijun Ma, Shenzhen University
Houmin Yan, City University of Hong Kong
Case 6 Cisco Systems, Inc.: Supply Chain Risk Management 80
María Jesús Sáenz, MIT-Zaragoza International Logistics Program
Elena Revilla, IE Business School
Case 7 BESSI: The Importance of Coordinating Product Development with Supply Chain Planning in the Fashion Goods Industry 96
Maria Caridi, Politecnico di Milano
Margherita Pero, Politecnico di Milano
Antonella Moretto, Politechnico di Milano
Chapter 3 Supply Chain Analytics 109
Case 8 Queuing at eCycle Services 111
Janice Eliasson, University of Calgary
Brent Snider, University of Calgary
Case 9 Multi-Echelon Inventory Decisions at Jefferson Plumbing Supplies: To Store or Not to Store? 117
Amit Eynan, University of Richmond
Case 10 Global Pharma: Managing Uncertainty 119
Sourabh Bhattacharya, Institute of Management Technology
Surajit Ghosh Dastidar, Institute of Management Technology
Case 11 Supplier Selection at Kerneos, Inc. 124
Ling Li, Old Dominion University
Erika Marsillac, Old Dominion University
Ted Kosiek, Kerneos, Inc.
Case 12 The Interface between Demand Management and Production Strategies at TractParts 130
Abhishek Shinde, Indian Institute of Management
Dileep More, Indian Institute of Management
Case 13 Analyzing Distribution Network Options at Remingtin Medical Devices 134
Yusen Xia, Georgia State University
Walter L. Wallace, Georgia State University
Case 14 NunaSacha: A Facility Redesign in the Ecuadorian Andes 140
Verónica León B., Universidad San Francisco de Quito
Daniel Merchán D., Universidad San Francisco de Quito
Ximena Córdova V., Universidad San Francisco de Quito
Carla Tejada L., Universidad San Francisco de Quito
Giuseppe Marzano, Universidad San Francisco de Quito
Case 15 Sherman's Supply Chain Challenge: Stopping the Retailer from Overcharging for Soda 156
Chuck Munson, Washington State University
Chapter 4 Short but Sweet 161
Case 16 Ethical Product Sourcing in the Starbucks Coffee Supply Chain 163
Dustin Smith, Washington State University
Case 17 Tmall, The Sky Cat: A Rocky Road Toward Bringing Buyers and Suppliers Together 171
Jianli Hu, Woodbury University
Olivia Congbo Mao, Alibaba Group
Case 18 Make to Demand with 3-D Printing: The Next Big Thing in Inventory Management? 180
Tom McNamara, ESC-Rennes
Erika Marsillac, Old Dominion University
Case 19 Airbus' Overstretched Supply Chain: Just How Far Can You Go Before Your Supply Chain Snaps? 184
Erika Marsillac, Old Dominion University
Tom McNamara, ESC-Rennes
Case 20 How to Keep Your Food Supply Chain Fresh 188
Tom McNamara, ESC-Rennes
Erika Marsillac, Old Dominion University
Case 21 The End of Lean?: Automobile Manufacturers Are Rethinking Some Supply Chain Basics 192
Erika Marsillac, Old Dominion University
Tom McNamara, ESC-Rennes
Chapter 5 Unique Challenges from Around the Globe 197
Case 22 A Brazilian Dairy Cooperative: Transaction Cost Approach in a Supply Chain 199
Fernanda Pacheco Dohms, Pontifical Catholic University of Rio Grande do Sul
Sergio Luiz Lessa de Gusmão, Pontifical Catholic University of Rio Grande do Sul
Case 23 Continuous Process Reforms to Achieve a Hybrid Supply Chain Strategy: Focusing on the Organization in Ricoh 210
Mikihisa Nakano, Kyoto Sangyo University
Case 24 Improving Preparedness in Supply Chain Risk Management at Jacket 220
Jury Gualandris, Università degli studi di Bergamo
Matteo Kalchschmidt, Università degli studi di Bergamo
Case 25 Supply Chain Strategy at Zophin Pharma 229
Arqum Mateen, Indian Institute of Management
Case 26 Waste to Wealth—A Distant Dream?: Challenges in the Waste Disposal Supply Chain in Bangalore, India 233
M. Ramasubramaniam, Loyola Institute for Business Administration
P. Chandiran, Loyola Institute for Business Administration
Case 27 Transitioning the Supply Network of Chennai Engineering Ltd to Cloud Computing 241
N. Chandrasekaran, Take Solutions, Ltd. & Loyola Institute for Business Administration
Case 28 Tussle between Maintaining Customer Satisfaction and Supply Chain Constraints: IGNYS Automotive 254
Satish Kumar, Indian Institute of Management
Dileep More, Indian Institute of Management
Case 29 When a Western 3PL Meets an Asian 3PL, Something Magical Happens 267
Shong-Iee Ivan Su, Soochow University
Case 30 Supply Chain Risk Management for Macro Risks 274
Matthias Klumpp, FOM University of Applied Sciences
Hella Abidi, FOM University of Applied Sciences
Index 285