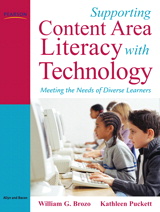 Description
To make content area learning more engaging and meaningful for all students Kathy and Bill present teachers with a basic framework for pairing literacy strategies with readily available classroom technology. Drawing on concepts of universal design, and flexible curriculum access, the authors explore legislation authorizing the use of technology for learners with diverse abilities and offer teachers tools to make technology work in their classroom. Their evidence-based procedures, explicit instruction strategies, and authentic activities guide teachers in integrating curriculum with English/language arts, social studies, science, and math to reduce the barriers to learning and improve student achievement. Kathy and Bill's friendly advice and suggestions for technology adaptations for reading strategies are the just the support teachers need to turn their classroom into a powerful learning community that fosters reading comprehension and content learning for all students.
Learn how to use technologyas a tool for providing literacy strategy supports with Supporting Content Area Literacy with Technology!
Demonstrates how instructional technology can become the media for teaching and learning literacy strategies in all subject areas.

Helps teachers to plan flexible strategies to meet a wide range of student abilities with explicit instruction examples.
Guides teachers in developing skills in both content area teaching and effective use of instructional and assistive technology.
Provides teachers of subject areas tools for meeting the content learning needs of all students.
Focuses attention on the importance of helping all students, including those with disabilities, meet content standards .
Takes advantage of the interactive nature of instructional technology for motivating students to become more engaged and thoughtful learners.
Features "Questions of Study" to aide facilitators in further discussion and learning for book club study groups.
Presents classroom examples of content literacy and technology within a content area (Social Studies, Language Arts, Science, and Math); including sample text, application of content strategies for readiness, interactive comprehension, and extending new learning with a technology example derived from the sample text.
Table of Contents
CHAPTER 1
CONTENT LITERACY AND TECHNOLOGY: A 21st CENTURY APPROACH FOR CHILDREN WITH DIVERSE ABILITIES
v Seeing Forward
v Content Literacy and Technology: A Rationale for Diverse Learners
o What is Content Literacy and Why is it Important?
o Reading Skills and Knowledge with Technology-Mediated Content Literacy
o Policy Implications for Meeting Content Literacy and Learning Needs of All Students
o Considerations for Learners with Special Needs: Assistive and Instructional Technology
v Think and Apply
v Looking Back
v Questions for Study
v References
CHAPTER 2
CONTENT LITERACY AND LEARNING STRATEGIES
v Seeing Forward
v Overview of Content Literacy and Learning Strategies
v A Framework for Content Literacy
o Phase 1: Readiness
o Phase II: Interactive Comprehension
o Phase III: Extending New Learning
v Reading Strategies for Content and Literacy
o Anticipation guides
o Lesson impressions
o Student Questions for Purposeful Learning (SQPL)
o KWL
v Interactive Comprehension Strategies
o GISTing
o QAR (Question Answer Relations)
o Process Guides
o Word grids
v Strategies that Extend New Learning
o RAFT writing
o SPAWN writing
o reader response
v Think and Apply
v Looking Back
v Questions for Study
v References
CHAPTER 3
DESIGNING LESSONS TO MEET A WIDE RANGE OF ABILITIES
v Seeing Forward
v Universal Design for Learning
o Principle 1: Support recognition learning, provide multiple, flexible
method of presentation
o Principle 2: Support strategic learning, provide multiple, flexible methods of expression and apprenticeship
o Principle 3: Support affective learning, provide multiple, flexible options for engagement
v Digital Tools that support Universal Design
o Software
o Hardware
o Access Settings
v Balancing Remediation and Compensation Strategies
v Designing Content Literacy Lessons that Incorporate Technology
v Think and Apply
v Looking Back
v Questions for Study
v References
CHAPTER 4
SOCIAL STUDIES: CONTENT LITERACY AND TECHNOLOGY
v Seeing Forward
v Classroom Case Study: Laws, Rights, and Responsibilities
v Content Standards
v Readiness
o SQPL
o Inspiration Software
v Interactive Comprehension
o Process Guide
o Microsoft Office XP, Kurzweil 300
o Using Electronic Reading Support
v Extending New Learning
o SPAWN writing
o Microsoft PowerPoint
v Looking Back
v Questions for Study
CHAPTER 5
LANGUAGE ARTS: CONTENT LITERACYAND TECHNOLOGY
v Seeing Forward
v Classroom Case Study: Heroes and Heroines
v Content Standards
v Readiness
o KWL
o Inspiration; Kidspiration
v Interactive Comprehension
o GISTing
o Microsoft PowerPoint, Microsoft Word, Intellitalk 3
v Extending New Learning
o RAFT Writing
o Microsoft Word, Intellitalk 3. Movie Maker
v Looking Back
v Questions for Study
v References
CHAPTER 6
SCIENCE: CONTENT LITERACY AND TECHNOLOGY
v Seeing Forward
v Classroom Case Study: Living and Non Living Things
v Content Standards
v Readiness
o Anticipation Guide
o Intellitalk III; Microsoft Word
v Interactive Comprehension
o QAR
o Picture It; Kidspiration
v Tips
v Extending New Learning
o Reader Response Writing
o KidPix; PixWriter
v Tips
v Looking Back
v Questions for Study
v References
CHAPTER 7
MATH: CONTENT LITERACY AND TECHNOLOGY
v Seeing Forward
v Classroom Case Study: Geometry
v Content Standards
v Readiness
o Lesson Impressions
o Classroom Blog; Inspiration; Microsoft Word; PixWriter
v Interactive Comprehension
o Word Grid
o Microsoft Word
v Tips
v Extending New Learning
o RAFT Writing
o Microsoft PowerPoint; Hyperstudio; Intellipics Studio
v Tips
v Looking Back
v Resources
o General
o Safe Blogging for Classroom
v Question for Study
v References
CHAPTER 8
TECHNOLOGY TOOLS FOR CONTENT LITERACY SUPPORT
v Seeing Forward
v Overview of Technology Tools
v A Framework for Technology Support
v Software Tools
o Word processors
o Specialized word processing features
o Visual learning software
o Specialized visual learning software
o Presentation software
o Electronic reading and study systems
o Web based applications
v Hardware Tools
o Desktop and Laptops
o Portable Word Processors
o Personal Digital Assistant–(PDA and Handhelds)
o Portable Media Players (iPods and others)
v Access Tools
o Built in Access
§ Keyboard adjustments
§ Sound adjustments
§ Mouse adjustments
§ Display adjustments
§ Speech recognition
o Other options
v Think and Apply
v Looking Back
v Questions for Study
v Product Examples used in K-12 Classrooms
v References