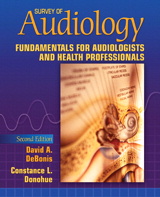 Description
<>This introduction to audiology text emphasizes the technical and scientific aspects of audiology, blended with other essential humanistic skills–active listening, empathy, client/family-centered protocols, and collaboration with family members and other professionals.
This book helps students develop the skills needed to address the needs of clients as human beings and as individuals who have communication disorders.
The authors specifically address the importance of audiology knowledge for the scope of practice in both speech-language pathology and audiology. This text is written to be a resource for the student of audiology and speech-language pathology long after the course is completed.
Written by two audiologists with more than 20 years of combined teaching experience, information in the text is presented in very clear, understandable language and is organized based on first-hand knowledge of formats that will be most useful to students. Because the authors also have nearly 40 years of combined clinical experience, the text is full of illustrative examples to further reinforce concepts introduced.
Table of Contents
** Each Chapter (excluding Ch 1) conclude with a "Chapter Summary," "Questions for Discussion," "Recommended Reading," and "References"
Preface
Chapter 1 Audiology as a Scientific, Collaborative, and Humanistic Discipline
The Audiology Profession
Audiology as a Humanistic Discipline
Recommendations for the Future
References
Chapter 2 Acoustics of Sound and Preliminary Clinical Application
What is Sound?
A Word about Units of Measure
Application of Acoustic Concepts to Reading Audiograms and to Understanding the Listening Environment
Fundamental Pathways of Sound
Environmental Acoustics
Chapter 3 Anatomy and Physiology of the Auditory System
Anatomy and Physiology of the Peripheral Auditory System
Anatomy and Physiology of the Central Auditory System
Chapter 4 Pure Tone Testing
Relationship between Pure Tones and Perception of Speech Sounds
The Audiometer
Calibration
Pure Tone Testing
Masking
Some Thoughts on Traditional Test Protocols
Potential Pitfalls in Pure Tone Testing
Appendix A: How to Mask during Pure Tone Testing
Chapter 5 Speech Audiometry
Contributions of Speech Audiometry
Speech Audiometry Tests
Other Tests of Speech Understanding
Masking during Speech Audiometry
Other Issues in Speech Audiometry
Appendix A: California Consonant Test
Appendix B: Selected Tests of MAC Battery
Appendix C: How to Mask during Speech Audiometry
Chapter 6 Physiological Assessment of the Auditory System
Acoustic Admittance Testing
Tympanometry
Eustachian Tube Testing
Acoustic Reflex Thresholds
Otoacoustic Emissions
Auditory Evoked Potentials
Appendix A: Answers to Tympanogram Cases 1-4
Chapter 7 Disorders of the Auditory System
Selected Conditions that May Affect the Outer Ear
Selected Conditions that May Affect the Middle Ear
Selected Conditions that May Affect the Inner Ear
Selected Conditions that May Affect the Central Auditory System
Balance Disorders: Assessment and Management
Chapter 8 Pediatric Audiology
Auditory Development and Pediatric Audiology
Components of Auditory System Development
General Principles of Pediatric Audiological Assessment
Client-Specific Protocols for Audiological Assessment of Young Children
Current Issues in Pediatric Audiology
Appendix A: Suggestions for Parents of Children with Middle Ear Problems
Appendix B: Screening Instruments for Targeting Educational Risk (SIFTER)
Chapter 9 Assessment and Management of Special Populations
The Elderly
Individuals who are Deaf
Adults with Developmental Disabilities
People with Neurogenic Disorders
Individuals with Nonorganic Hearing Loss
Appendix A: Considerations for Hearing Assessment and Case Management of Individuals Who Have Developmental Disabilities
Appendix B: Communication Strategies for Use with Individuals with Developmental Disabilities
Chapter 10 Auditory Processing Disorders
Maturation and Plasticity of the Central Auditory System
Nature and Development of Tests of Auditory Processing
When Is a Referral for Assessment of Auditory Processing Appropriate?
Peripheral Audiological Assessment and Candidacy for Tests of Auditory Processing
Auditory Processing Assessment and Implications for Management
Final Remarks: Auditory Processing as a Useful Construct
Appendix A: Sample Case History Form for Auditory Processing Evaluation
Chapter 11 Screening
Definition and Models
Decisions about the Screening Protocols
General Screening Components
Screening Protocols across the Lifespan
Appendix A: Sample Content to Include in Forms for Reporting Hearing Screening Results
Appendix B: Hearing Screening (Adults)
Appendix C: Hearing Handicap Inventory for the Elderly
Chapter 12 Helping Individuals with Hearing Loss
Model of Aural Rehabilitation
Audiological Assessment
Treatment Planning
Hearing Aid Selection
Recent Developments
Verification
Validation
Implantable Hearing Aids
Hearing Aid Orientation
Suggested Schedule for Periodic Reevaluation
Assistive Devices
Adult Aural Rehabilitation
Improving Classroom Listening
Cochlear Implants
Tinnitus
Prevention
Counseling
A Further Look at Diagnosis through Aural Rehabilitation–Five Sample Cases
Appendix A: Educational Consultation: Talking with Parents and School Personnel
Glossary
Index