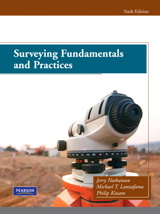 Description
For courses in introductory surveying offered in most civil technology, construction technology, and architectural technology programs.
Surveying Fundamentals and Practices, Sixth Edition, covers up-to-date surveying technology without losing perspective of the need to provide students with a strong foundation in traditional surveying fundamentals. Through clear explanations and applied examples, the text presents the methods of measuring and computing distances, angles, and directions. It provides students with a firm grasp of modern equipment and office and field procedures related to horizontal control surveys, property surveys, topographic surveys, roadway curve calculations, and construction layout surveys. The sixth edition offers students a "user-friendly" text that they will be able to rely on as a meaningful learning tool in class and at home.
Table of Contents
PART 1. BASIC CONCEPTS IN SURVEYING.
1. Introduction.
2. Measurements and Computations.
3. Basic Mathematics for Surveying.
PART 2. SURVEYING EQUIPMENT AND FIELD METHODS.
4. Measuring Horizontal Distances.
5. Measuring Vertical Distances.
6. Measuring Angles and Directions.
PART 3. SURVEYING APPLICATIONS.
7. Horizontal Control Surveys.
8. Property Surveys.
9. Topographic Surveys and Maps.
10. Highway Curves and Earthwork.
11. Construction Surveys.
Appendix.
A. Traditional Surveying Techniques and Equipment.
B. Units and Conversions.
C. Formulas and Tables.
D. Sources of Additional Information.
E. Glossary.
F. Answers to Even-Numbered Problems.
Purchase Info ?
With CourseSmart eTextbooks and eResources, you save up to 60% off the price of new print textbooks, and can switch between studying online or offline to suit your needs.
Once you have purchased your eTextbooks and added them to your CourseSmart bookshelf, you can access them anytime, anywhere.
Buy Access
Surveying Fundamentals and Practices, CourseSmart eTextbook, 6th Edition
Format: Safari Book
$66.99 | ISBN-13: 978-0-13-508954-5